Gold before fame
Welsh teenager looks to make her mark on home soil
Last Updated: 10/04/12 5:08pm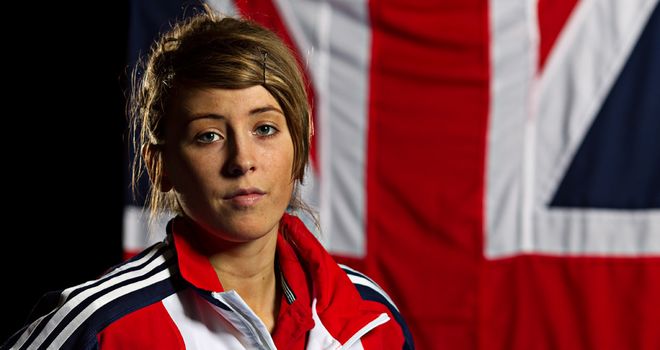 Jade Jones: Profile has been raised
Taekwondo fighter Jade Jones insists there is no chance of her losing focus on delivering the biggest prize of all in London this summer.
The Welsh teenager has taken centre stage on a celebrity chat show and been snapped in glossy photoshoots in recent weeks as her profile raises ahead of the 2012 Olympics.
The 19-year-old from Flintshire is one of Team GB's leading medal chances, where, if selected as expected for the under-57kgs slot, Jones will look to add to her silver at the 2011 World Championships.
Like many prospective British Olympians, Jones is facing more demands for her time outside the confines of the GB Taekwondo world class performance programme in Manchester.
She made a memorable appearance on the Jonathan Ross Show where the host was handed a taste of what the Wales youngster intends to dish out at ExCeL in August.
While Jones will make the most of such unlikely opportunities which are likely to continue to open up ahead of the Games, the British fighter remains firmly fixed on her ultimate goal.
Grounded
"Seeing myself on the Jonathan Ross Show was a bit weird, but it was a fun experience which I really enjoyed," said Jones.
"Some people try to do much, and it can affect you, you always have to put training first.
"With me, I fit things in around my training schedule, and I have my family to help keep me grounded, that I am not thinking I am some big thing."
Jones added: "My goal is Olympic gold - all the little things along the way are nice, but getting that medal is the most important.
"I am always focused, but it is easy to get distracted, there is no doubt about that.
"You just have to remember why you are here, what you are doing it for and how hard it is going to be to win Olympic gold.
"However, it is also a once-in-a-lifetime chance, so all the little nice things along the way - why not? I am only 19."
Introduced to the martial art by her grandad at the age of eight - a way of "keeping me off the streets and learning how to defend myself," she recalls - Jones happily admits she is "naturally aggressive" and always "hungry to get in there and fight".
Taekwondo, though, is much more than just blindly kicking and punching your way to success.
"It can be a bit like a chess games, finding out what they are going to do, so there is a lot of thought behind it," said Jones, who claimed gold at the 2010 Youth Olympics in Singapore.
"You have to be mentally right as well, and I have done some work with a sports psychologist on that."
Jones aims to return fighting fit from a recent minor groin problem to deliver a medal at the European Championships in Manchester next month.
Absentee
Team GB are expecting a strong showing from all of their Olympic hopefuls, with two weight categories pre-selected ahead of the final squad announcement.
One noticeable absentee, though, will be Sarah Stevenson as the two-time world champion and Beijing Olympics bronze medalists aims to recover from knee surgery to make the team for London.
Stevenson helped coach Jones to victory out in Singapore, and the teenager admits it is a difficult situation for her mentor.
"I see Sarah at the EIS [English Institute of Sport], and sometimes you don't really know what to say because you know how you would be feeling if that was you," she said.
"You can't understand what she is going through, but we have just to keep focused on going forwards and hope Sarah gets back."