Swift savours gold
Swift misses out on team pursuit but bags solo gold
Last Updated: 05/04/12 3:36pm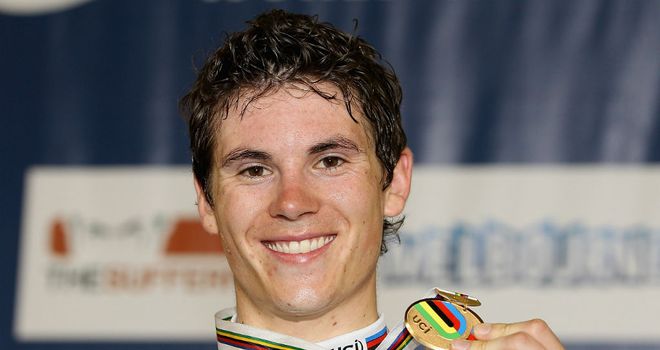 Ben Swift: Gold medal in Melbourne
Ben Swift's World Championship gold in the scratch race was tinged with slight disappointment as that event will not be in the Olympic schedule in London.
Swift hoped to be part of the pursuit team which captured the world title in Melbourne and also broke the world record in the process.
He made up for his disappointment with a solo gold in the scratch race, but sadly for him that event will not be staged at London 2012.
Swift will now take time to consider his options but has not given up hope of cracking into the team pursuit line-up, having trained so hard with the guys who delivered the world record in Melbourne.
"Watching the boys get that world record before I rode the scratch race was unbelievable, I was super proud of them," Swift told Sky Sports News
Disappointed
"I was a bit disappointed not to be in the line-up but made up for it in the scratch race.
"It won't be in the Olympics though which is a shame, at the minute I'll probably still push for a place in the team pursuit team but once we get back from Australia I'll sit down with my coaches and see where I am."
Swift insists he was happy for his team-mates to see them grab the world record, after being part of the training set-up for so long.
"I loved seeing them do well," he insisted. "I've been a part of the training and we've all been on a real long journey together since November. It's been a lot of hard work so to see them pull it off and get the world record is unbelievable
"It's nice to win gold but it's not an Olympic discipline, it's still a World Championship and is still a result to going to be proud of."
The battle between Great Britain and Australia on the track should be a highlight of London 2012, and Swift says neither side is shying away from the clash.
"It's brilliant. The Aussies here really love it and they're really looking forward to August, as we are, and it's going to be a great battle.
"We've set down a pretty big marker. We missed out on the team pursuit for the last three years so to come back now and break the world record sends out a big message to the rest of the world."