Reade keeps options open
BMX gold medal hope could also compete on the track
By Chris Hammer. Last Updated: 28/11/11 2:32pm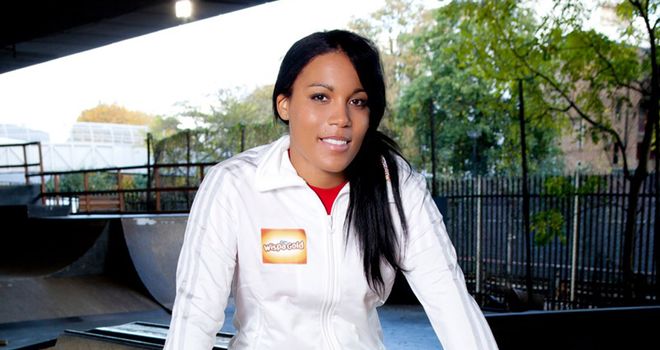 Reade: Olympic dreams
British cycling star Shanaze Reade is firmly focused on becoming Olympic BMX champion next year - but isn't ruling out the possibility of competing inside the velodrome as well.
The 23-year-old from Crewe will undoubtedly be one of the favourites for BMX gold having won three world titles in the last five years while she also claimed glory in the Olympic test event back in August.
That victory made up for the disappointment of missing out on the final at this year's World Championships in Denmark, when a wrist injury hampered her preparations, and now Reade will head into the biggest year of her life in confident mood.
She also has an outside chance of representing Great Britain on the track in the team sprint alongside Victoria Pendleton, although Jessica Varnish is currently in pole position to take that spot.
Reade made an instant impact during her first year of track cycling in 2007 by claiming world gold with Pendleton and 12 months later they retained their title in Manchester.
However, since Reade took silver in the same event in 2009, Varnish has become Pendleton's team-mate and together the duo managed to win European gold earlier this year as well as taking second place at the World Championships.
The BMX specialist said: "I did a block of training for the track over a few weeks this winter to see where I was at and things were going really well but it's just trying to find the time to combine them both.
"I think at this point my main focus going into London 2012 is the BMX but if Jess gets injured or anything else happens then I'm sure I can step up to the mark and perform on the track. I'm more of a reserve but I am also still keeping that door open.
"I don't want to close it and think I'll never do it again."
Reade admits being selected to compete in the velodrome would be a 'bonus' but is also wary that doing too much track cycling could hinder her BMX bid.
She said: "The skill level for BMX is always being raised and you've always got to reassess where the sport is heading so I've got to make sure I'm not just strong and fit but also technically at the top of my game.
"If I do track cycling it does slightly compromise the BMX. So at this point I've just got to see how it all goes and if anything happens to Jess or if they do call upon me then I need to be in the right shape to perform at the Olympics.
"Doing two completely different sports, it's always going to be a bonus if I get selected for the track because I'm not 50:50 in terms of how I prioritise. I'm always around 90% BMX and 10% track timewise so if I made it off just that much dedication then to make the team it would be a huge bonus, regardless of my results of the Olympics.
"But I need to be very mindful that I don't take anything away from my BMX."
Pressure
Reade will be well prepared for the pressure of an Olympics next year having been forced to deal with sky high expectations at the age of just 19 when she headed to the Beijing Games in 2008 labelled as a nailed-on gold medallist.
There she suffered a heartbreaking fall in the final to miss out on the medals but hopes that could be a blessing in disguise.
She said: "I really wanted to win the Olympics in Beijing but if I had done so I would have won everything I could have. Would I then have had the same motivation and determination as I do now heading into London?
"I don't really think I would, because I would have achieved everything.
"Every day you have it in the back of your mind that you want to become Olympic champion and I've never been that before. I really want to know what it feels like.
"What happened in Beijing has helped me grow up as a person and an athlete and it's given me more motivation for the home Olympics."
Reade's triumph in the recent test event certainly gives her a psychological edge over her biggest rivals - including world champion Mariana Pajon of Colombia and New Zealand's Sarah Walker - and she hopes there will be more opportunities to race on the Olympic track before the Games begin.
She said: "When me and my coach sat down last winter to set our goals for 2011, I put the test event higher than the World Championships.
"We got a lot of positives from the event and it was a big boost for me but we've also picked up on things we know we need to work on.
"It was probably one of the best feelings I've had from a BMX race because of the home crowd. I've obviously raced in front of home crowds on the track in this country but usually it's in the sprint or team sprint when Victoria Pendleton takes most of the cheers.
"So the way the crowd responded to me at the test event was something I'll never forget and at the Olympics it will be an amazing experience just to race as the capacity will be much bigger by then.
"The British team are pushing to get access to the track but we're waiting for that answer and we'll have to wait and see what happens."
Preparation
Three months before the Olympics, Reade will get another chance to perform in front of a British crowd at the World Championships in Birmingham, which she feels will be the perfect preparation for London.
She said: "If the world championships were in another country, you'd only get a few British people out there supporting you. So to have a packed crowd in Birmingham next year just a few months before the Olympics will be great.
"If we could sit down and say what the best preparation would be for us, then it would be to have the world championships on home soil next year.
"It will be like a mini Olympics with all the top girls there in front of lots of people - it will be the perfect event to build me up for the games."
Reade is desperate to make her family proud in London but knows she's also got the responsibility to inspire the next generation of cyclists in this country.
She said: "My mum and my granddad have always been massive motivators for me. My mum had me as a teenager so she was young and a one-parent family so I've always wanted to make her proud.
"But also my nan and granddad helped bring me up and put so much into me so I've always wanted to repay them.
"I've never thought of myself as a role model but now I do have a lot of people who look up to me so it's important to be a figurehead in UK sport for BMX.
"I'll always be biased but I do believe BMX is the best cycling sport to get into, even if it's not where you end up in terms of a career. It's the cheapest one because you can get a BMX bike for under £100 from most shops and there's a lot more tracks being built now.
"It's a great way to get fit and enjoy riding your bike with your friends and have a laugh."
Olympic British athlete Shanaze Reade stars in the latest track for Cadbury Dairy Milk's Keep Singing Keep Team GB Pumped campaign, as part of its London 2012 Olympic Games sponsorship, which aims to get the nation singing along to show their support for Team GB. For more information visit http://keepourteampumped.com.