Winning recipe
Two-time world champion and Olympic silver medalist Keri-Anne Payne speaks exclusively to skysports.com on all things swimming, Team GB... and baking
By Peter Fraser - Follow me on twitter @SkySportsPeteF. Last Updated: 06/10/11 6:47am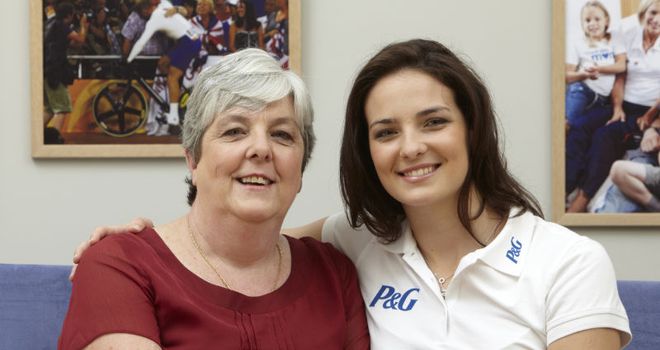 Payne: The 23-year-old is a major medal hope at the London Olympics
Keri-Anne Payne is a two-time world champion and an Olympic silver medalist. Not a bad achievement considering she only began swimming because she wanted to copy her older brother.
The South African-born 23-year-old in July became the first British athlete to qualify for the London Olympics when she defended her 10 kilometre open-water title at the World Championships in Shanghai.
Payne, who finished second in the inaugural Olympic 10K in 2008 in Beijing, will consequently represent a significant medal hope for Team GB when she takes to the water in Hyde Park in less than 10 months' time.
And so, at a P&G event in partnership with British Olympic Association and British Paralympic Association to announce a scheme to provide support for the family and friends of athletes, skysports.com was happy to talk swimming, team spirit... and baking.
"I think it has already inspired the next generation. It is the biggest competition in the world on our home turf. Hopefully we will see the outcomes of the Olympics."
Keri-Anne Payne Quotes of the week
You were born in South Africa before moving to Britain. What first inspired you to start swimming?
My brother is nine years older than me and he was swimming. It is what he got into and what he really enjoyed doing. Naturally, I was there with my mum. She would take me with her to watch him swim. I was the annoying little sister who wanted to follow him around. He was swimming and so that was it, that was what I was going to do. My sister did gymnastics. I tried gymnastics for a while, but realised, 'nope, that's not the thing for me'. I carried on with swimming and that's the way it has gone from there.
How did you come to be a long-distance, open-water swimmer rather than the more conventional pool events?
That wasn't until about 2006, when things weren't going so well in the pool (when Payne finished fourth in the 800 metre freestyle at the Commonwealth Games). I needed a change, so my coach decided to try outdoor swimming. It is a change. It is a different challenge, every single swim is a different challenge. It was something different and was just the shake-up I needed.
You mentioned about 2006. Has there ever been a time when you thought you might quit swimming?
It was a close call in 2006. I didn't swim very well. I hadn't swum a personal best for years and I just really wasn't enjoying it anymore. The open water was the shake-up I needed and I really enjoyed it. I found my love for the sport again, which is immensely important.
On your blog (www.keriannepayne.co.uk), you have spoken of your love for the Midmar Mile race in Pietermaritzburg, South Africa. What are your memories of that time?
Being a family. We would all go down in the car and take a caravan, or stay with friends. There was a big caravan park. My dad would swim it, my brother would swim it, I would swim it, my sister would swim it. My mum would hold the towels at the end. She did that very well, that is a very hard job! Haha. I will always have really fond memories of Midmar.
Do you miss South Africa and do you get to go back and visit very often?
We go back every year, actually, around January or February for a training camp just north of where I used to live. I miss the weather and I miss my friends. But I love Britain and everything about it. I wouldn't swap that now for anything.
You were the first person to qualify for Team GB. Are you now counting down the days to the Olympics?
It is really exciting and scary at the same time. I am excited to be a part of it and of course it is going to be such an honour to be a part of this team. I am not looking forward to it too much, because I would probably explode.
You are already an Olympic silver medallist and a two-time world champion. Are you prepared for the additional spotlight of the Games in this country?
At the end of the day, I can only control my own performance. I can't control everybody else. So, as long as I know I have done absolutely everything I can, give it my best shot, and whatever that is, I can't do any more than if I have tried my absolute best. So we will have to wait and see how it goes.
How important are the London Olympics in terms of inspiring the next generation of athletes?
I think it has already inspired the next generation. It is the biggest competition in the world on our home turf. Hopefully we will see the outcomes of the Olympics.
Skysports.com recently spoke to Rebecca Adlington and Liam Tancock. There seems to be a very good sprit among Britain's swimmers. Would you agree?
We have always had brilliant banter. We always have a laugh whenever we go away. There are no cliques in the swimming team. Everybody just gets on with everybody, which really makes a difference. A happy team is a fast team, they say. We love spending time together, so, the first two or three hours when we meet up, we are all like little children when we run around. Everyone is really focused on what they need to do, but at the same time we have the banter to keep everybody in check.
How do you like to spend your spare time away from swimming?
Cooking, definitely. I'm an avid baker/cooker. I like making people happy with food. My specialist dish at the minute is called a Milk Tart. It is a South African desert. A friend of mine came over to visit and gave me the recipe. I have been trying that and showing it off to all the family, who remember it from South Africa and are looking forward to trying it again.
You are on twitter (@KeriannePayne). Do you think interacting with fans is now an important issue for sportspeople?
It is a great way for people to see what we are up to. Everyone says, 'ooh, it's really interesting'. For us, it (daily routines) is really boring, so it is nice to have the support and to interact with people who are interested in what we are doing and say thanks for all the hard work they are putting in.
How will you benefit from the P&G 'Nearest & Dearest' scheme?
For me, as an athlete, it is an absolutely amazing campaign and we are all immensely happy that they did something like this for us. A big stress at any competition is knowing that our parents are okay - 'where are they?', 'have they got tickets?', 'can they get to where they need to go?', 'are they being looked after?'. That is what this campaign is for. It gives tickets to the parents of any athlete who qualifies, which is amazing. They have a dedicated team, websites and roadshows around the country so the nearest and dearest can go along and ask all the questions they need.
Has your family been an important part of your career in terms of both inspiring you and keeping your feet on the ground amid success?
Absolutely. They have been a huge part of everything in my life. They always have been and they always will be. My brother and my sister are there to keep me grounded, make sure I am doing the right things and keeping me really focused on what I need to do. My parents were there for the support, no matter what.
Keri-Anne Payne was speaking at the launch of the 'nearest & dearest' programme in partnership with P&G - supporting family and friends of all Team GB and ParalympicsGB athletes in the lead up to London 2012. Visit www.pgproudsponsorofmums.co.uk