Greenwich Park hailed
Equestrian venue praised after test event
Last Updated: 07/07/11 12:46pm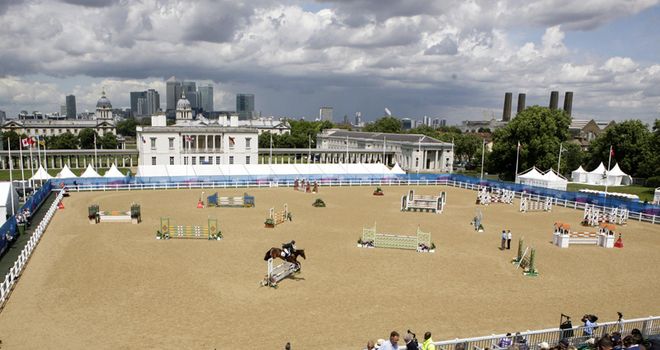 Greenwich Park - hosted the Olympic test evemt.
Great Britain's equestrian team chief Will Connell believes Greenwich Park will be an "outstanding" venue at London 2012 after the sport's Olympic test event "exceeded expectations".
British riders enjoyed a highly successful competition, with Piggy French following up impressive dressage and cross-country displays aboard DHI Topper W by producing a double clear in the showjumping to secure the Greenwich Park Eventing Invitational title.
Leicestershire-based French finished on her dressage score of 34.7 penalties - more than seven clear of runner-up Michael Jung - while her British colleague Pippa Funnell was third with Billy Shannon.
William Fox-Pitt's 10th place on Gaucho also underlined rich Olympics medal potential of the host nation next year.
"The test event exceeded expectations and was a fantastic three days of equestrian sport," said Connell.
"Irrespective of what our riders achieved, my lasting memory will be the cheering schoolchildren on cross-country day, which is what Greenwich is all about.
"This has been a test event and there are things we will be feeding back to LOCOG [London Organising Committee of the Olympic and Paralympic Games], but I am convinced Greenwich Park will be an outstanding Olympic and Paralympic venue."
Room to improve
However, British Nations Cup riders Nick Skelton, David McPherson and Will Funnell all raised concerns about the main arena's waxed sand and fibre-based surface's in the main area following showjumping's test run.
McPherson said: "For me, the surface is nowhere near good enough. It needs an enormous amount of work.
"I think it is a consensus between the riders that there is a sort of a pudding feeling, and this cannot be because it's our Olympics and everything needs to be perfect.
"If it is like this next year it will make a 1.65m fence feel like jumping 1.80m. It needs straightening out."
Leopoldo Palacios, footing adviser for the sport's world governing body the Federation Equestre International, accepted there were issues with the surface that needed to be ironed out.
"For this event the footing was not perfect - it had problems," said the Venezuelan.
"It is not packed enough. It's soft - very heavy for jumping. We know that, we are aware of that, and the riders passed feedback back to us."
French joy
Meanwhile French, who triumphed barely two months after finishing second at Badminton and just two weeks on from a fourth-placed result in Germany's top four-star event at Luhmuhlen, was thrilled with her performance.
"It's an amazing feeling to have been here," she said. "It is going to be fabulous next year, and I just can't wait to try to get here (for the Olympics).
"But so much can go wrong with horses - one minute you are up, the next minute you are down. Right now, it feels it is all going well for me, but horses are great levellers."