Johnson warns 2012 hopefuls
American sprinting legend warns home stars of becoming "too comfortable"
Last Updated: 27/07/10 7:13pm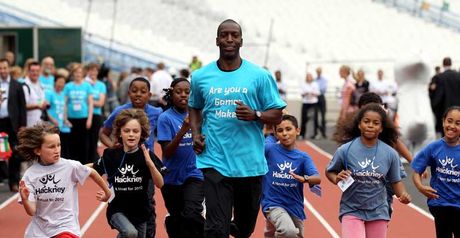 Johnson: Potential dangers
Michael Johnson has warned Great Britain's athletes not to lose their edge when they compete in the 2012 Olympic Games in London.
SKY SPORTS ON SKY
From football to fishing and everything in between, including cricket, rugby, golf and tennis - there's some amazing coverage coming up on the five Sky Sports channels. Plus, with the launch of
Sky Sports News HD
this summer, all five channels will soon be available in stunning high definition, only with Sky. Click
here
for more
The American sprinting legend was speaking on Tuesday at an event held in the capital's Olympic Stadium to mark the two-year countdown to the start of the Games.
Johnson, who won four Olympic gold medals, urged stars like Sir Chris Hoy not to become "too comfortable" and also said that the attentions of family, friends and the public at large can all lead to a loss of focus.
He said: "To represent your country at home is very special and not very many athletes get the opportunity to do that at a home Olympics.
"But from a competition standpoint it does pose some potential dangers of getting a little too comfortable, and you have family members and other people wanting tickets.
"Shockingly, someone will call you just before you are about to compete and ask for tickets. Those kind of things happen.
"You have to answer those things yourself, because you are at home you can lose that edge a little bit.
"I was just talking with Chris [Hoy] about how he has to prepare, he has to recreate that same environment that he had in Beijing when he was on the other side of the world."
Johnson experienced a home Olympics in Atlanta in 1996 but said he enjoyed the experience of Sydney four years later more.
He added: "As great as it was a to have the Olympics in Atlanta, my memory of that Games was of my hotel room and the track. I wasn't able to take in the atmosphere as I was competing every day and I couldn't go out onto the street.
"I have great memories on the track in Atlanta but if you take Sydney, my last Olympics, I have great memories of walking around the city and the atmosphere.
"It wasn't my home town and I wasn't the face of the Games like I was in Atlanta."
Thrill
Earlier, Johnson raced against children on a specially-laid track inside the Olympic Stadium, which is now close to completion.
In a day full of events to mark the two-year milestone, Hoy became the first rider to lap the new velodrome while ex-NBA star John Amaechi shot the first hoop in the basketball arena.
Hoy said he could already visualise the thrill of riding in a final in front of a cheering crowd of 6,000 fans.
The 33-year-old Scot said: "Just looking up at the stand and hearing the cheers of the construction workers you can feel what it will be like when it is full to the rafters and an Olympic final.
"You can sense that as soon as you walk in and it gets me really enthusiastic - two years to go and I can't wait!"