Ghanaian skier set for Games
Nkrumah-Acheampong ready for Winter Olympics
Last Updated: 08/02/10 10:39am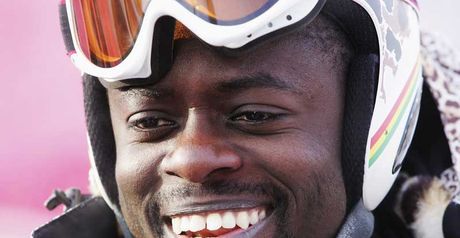 Nkrumah-Acheampong: Determined
Ghanaian skier Kwame Nkrumah-Acheampong is determined to prove himself as a serious contender at the Winter Olympics in Vancouver in February.
The 35-year-old African, who learnt his skills on artificial English slopes, is the first skier from Ghana to qualify for the Games.
Nicknamed the "Snow Leopard", Nkrumah-Acheampong persevered to earn his spot in Canada despite receiving no backing from his home country, and will be looking to establish himself as more than a novelty act next month.
Joke figure
"I know I'm a novelty, that I'm odd. I cannot run away from that. But every time I'm on the slope, it's about proving 'Look, I actually can ski'," Nkrumah Acheampong told The Telegraph.
"I won't be seen as a joke figure."
Nkrumah-Acheampong, who was unable to qualify for the Turin Winter Olympics in 2006 after his ski equipment got lost in transit, made his major race debut in Val Thorens in 2005, plummeting to last place.
However, the African insists history will not repeat itself when he takes to the slopes in Vancouver, adding: "I'm determined not to finish last."