Hiroshima, Nagasaki launch bid
Mayors announce campaign linked to global nuclear arms ban
Last Updated: 11/10/09 4:13pm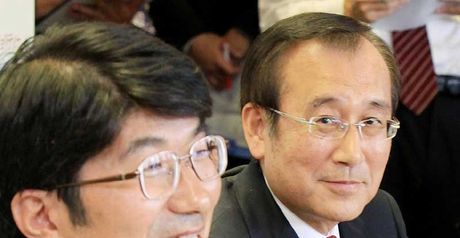 Bid: Mayors Taue (l) and Akiba
Hiroshima and Nagasaki are teaming up to bid for the 2020 summer Olympic Games, it was announced on Sunday.
The respective mayors of the cities, Tadatoshi Akiba and Tomihisa Taue, told a press conference they intended to launch a bid that, if successful, would emphasise world peace.
Both mayors are founding members of the Mayors for Peace 2020 Vision Campaign, which advocates for a global ban on nuclear weapons.
In a speech last month, Akiba expressed his belief that nuclear weapons could be abolished worldwide by 2020 and suggested the two cities could host the games that year to celebrate.
An estimated 140,000 people were killed in Hiroshima as a result of an atom bomb dropped from an American B-29 plane in the final days of World War Two on August 6 1945.
Three days later, the US dropped a second bomb on the port city of Nagasaki - about 200 miles west of Hiroshima on the island of Kyushu - killing about 80,000 people.
A number of cities have already expressed interest in hosting the 2020 Olympics, including Istanbul, Budapest and Delhi.
A host city is expected to be named in 2013, and only one city per country is allowed to submit a bid.
The announcement comes a little more than a week after Tokyo lost its bid to host the 2016 Olympics. Tokyo organizers have not indicated whether they will bid again.