DeGale strikes gold
Briton edges scrappy final to claim middleweight title
Last Updated: 27/01/12 6:04pm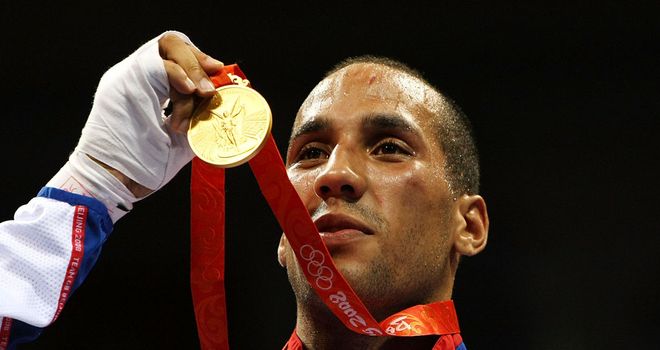 Great Britain's James DeGale won gold in the middleweight boxing division after a 16-14 win over Cuba's Emilio Correa in a scrappy final.
The Briton built up a substantial early lead, but was hanging on in the closing stages as his opponent went for broke.
However, DeGale was quick enough and clever enough to keep his nose in front and sunk to knees at the final bell having won Team GB's 19th gold of the games.
Sticking to his counter-punching style DeGale pulled 4-1 clear in the first round and was handed an unexpected boost when Correa was penalised two points for an alleged bite.
The Cuban continued to march relentlessly forward in search of DeGale but his attacks became more and more clumsy with the pair wrestling each other to the ground on more than one occasion.
DeGale managed to maintain his focus, though, and more slick punching helped him open a 10-4 lead at the halfway point.
However, as both boxers tired the contest became more frantic and, having been caught by a couple of shots, DeGale's lead became a nervy one as he too was hit by a two-point penalty in the third for holding.
He entered the last just 12-10 ahead and, despite appearing almost out on his feet, Correa threw everything at his rival as he looked to close the gap.
But DeGale landed scoring punches just when he needed them and clung on to record a memorable triumph.
Afterwards the Londoner stated: "It wasn't even that good, I just wanted to win. He bit me. He knew he was six points down and bit me. He was tough, horrible and strong throughout the bout. But I'm Olympic champion, it's unbelievable."