Defending champions suffer
Australia lose striker Schubert ahead of hockey semi-finals to injury
By Rebecca Syrocki. Last Updated: 20/08/08 12:22pm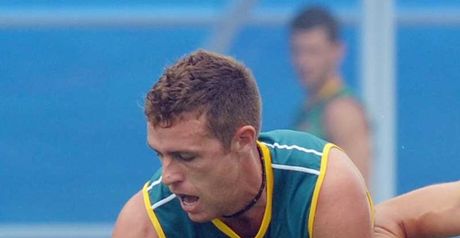 Schubert: Injury blow
Defending Olympic champions, Australia, has suffered a major set back ahead of the men's hockey semi-finals. Seasoned striker Grant Schubert has been ruled out with a knee injury.
An MRI scans confirms he suffered a ligament tear in his right knee after falling in a 3-3 draw in the last league match against Britain. He will now miss the medal round.
Schubert will be replaced by Andrew Smith for the semi-final against Spain and could be sidelined for six to eight weeks.
The 28-year-old will remain in Beijing to cheer on his team-mates as they bid to retain the gold medal they won in Athens in 2004. Team officials say he will not require surgery.
Australian caoch Barry Dancer explained Schubert had suffered the injury during a dive in the last minute in attempt to score a goal.
"It is certainly a big blow as Grant has been a very significant player for us, but he is remaining positive and his focus now is to support the group," said Dancer.
"We're trying to maintain a role or him that's very close to the group."
Important role
Smith, who has trained with the squad during its stay in Beijing, has already been applied to Games officials by the Australians to replace Schubert.
"Andrew is very well prepared and fits nicely into the role that Grant has left. He played an important role in the Champions Trophy in June," said Dancer.
Confident that the team will overcome Schubert's injury ahead of the semi-finals the coach said: "Certainly Grant's absence will be missed, but we have shown over time that we have the depth and can deal with adversity."
Former Olympic champions the Netherlands will face Wold Cup holders Germany in the other semi-final.