Brilliant Nadal strikes gold
Gonzalez no match for new world number one
Last Updated: 18/08/08 9:38am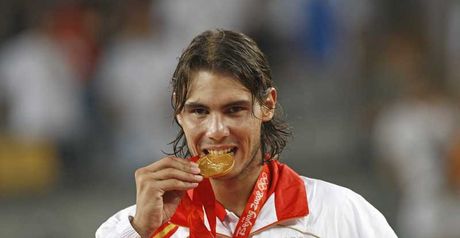 Nadal: Olympic champion
Rafael Nadal has crowned his rise to the top of the world rankings by winning the Olympic gold medal in Beijing.
Nadal, who will be confirmed as the new world number one on Monday, beat Fernando Gonzalez 6-3 7-6 6-3 in the men's singles final.
The Spaniard is the first man with a top five ranking ever to win the Olympic title.
He needed to save two set points in the second set, but Gonzalez was unable to break serve throughout the match.
Nadal's gold medal is Spain's first in tennis in Olympic history.
"I just want to enjoy this moment because I'm having an unbelievable year," Nadal said.
"It's more than my best dreams so I want to enjoy the moment. I know how difficult it is to win these things, especially here. Winning for me is unbelievable."
Now the Spaniard will jet straight to New York for this month's US Open with the same kind of irresistible momentum with which he conquered the grass-court season. But Nadal says his new status as number one will not change a thing.
"For sure I'm very happy to be number one but it doesn't change things much. I was very happy being number two. There is satisfaction there but at the same time I don't have time to celebrate.
"The pressure is the same because I just want to keep winning just like I did when I was world number two. I will probably be number two again in a few months. For me, the pressure doesn't change."