British victory keeps dream alive
2-1 win means semi-final berth still possible
By Will Wood. Last Updated: 16/08/08 3:37pm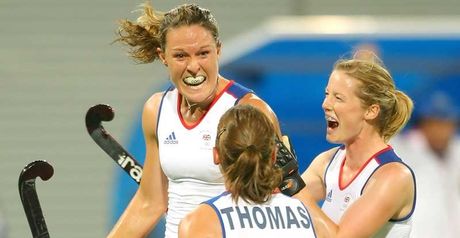 Great Britain: Hope
Great Britain kept their dreams of an Olympic medal alive as they secured a last-minute 2-1 victory over Japan in the women's hockey.
Women's Hockey: 16th August: Great Britain 2 - 1 Japan Holand 2 - 1 - Australia United States 4 - 1 - New Zealand
""It's a good feeling. We tried to be the first to make it from our group.""
Marc Lammers Quotes of the week
After one win, a draw and a loss from the team's opening three games, the team needed to win their penultimate match to have any chance of securing a semi-final berth.
All was going to plan as Anne Panter handed her side the lead after 32 minutes, but Japan were soon level courtesy of Keiko Miura's equaliser.
With 20 seconds remaining, Crista Cullen converted a penalty corner to edge Great Britain in front, sparking celebrations as the final whistle was blown.
The side now face the United States in their final group game, needing a win to lift them above either Germany or Argentina and into the top two.
Qualifiation is out of their hands, however, and the squad will have to hope that either New Zealand hold Argentina or disposed opponents Japan beat Germany.
Impressive
Meanwhile, Holland continued to impress as they became the first of the women's hockey teams to qualify for the semi-finals, defeating Australia 2-1 in Pool A.
The win is the side's fourth in a row and sees them top the group with 12 points, suggesting they may go one better than in Athens four years ago where they took silver.
The win, though, was far from comfortable as the Dutch had to fight-back from a goal down, eventually converting two of four penalty corners, both netted by Maartje Paumen.
Three-times Olympic champions Australia must now defeat China in their final qualifying match if they are to progress to the semi-final.
"It's a good feeling. We tried to be the first to make it from our group," Marc Lammers, Holland's coach, told Reuters.
Hopes Alive
United States kept alive their own hopes of a medal by seeing off New Zealand 4-1, meaning they now have one win and one draw to their name.
Keli Smith scored a brace while Angela Loy and Kayla Bashore grabbed one apiece to seal the victory, with Joanne Galletly scoring a consolation for New Zealand in what was their fourth defeat of the games.