Holland edge GB men
Dutch exploit late sin-binning
Last Updated: 13/08/08 8:26pm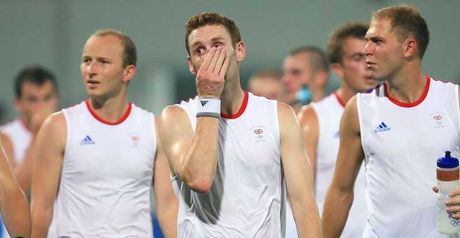 Narrow defeat: Jonty Clarke
The Great Britain men's hockey team may have lost 1-0 to Holland but they performed creditably in a match no-one gave them a chance in.
Indeed, coach Jason Lee's side came within seven minutes of securing a brilliant goalless draw against the two-time Olympic champions and world number three-ranked country.
Team GB displayed freedom and attacking intent for over an hour before they eventually fell victim to the sport's best penalty corner specialist Taeke Taekema.
The first chance fell to Holland in the eighth-minute and was set up by Laurence Docherty, who four years ago pledged his allegiance to the country where he plays his club hockey after becoming disillusioned with British selection policy.
Matthijs Brouwer picked up Docherty's pass but he was denied by Loughborough's Scotland goalkeeper Alastair McGregor.
The goalkeeper again saved from Brouwer four minutes later, with Reading forward Simon Mantell winning Britain's first penalty corner in the 15th minute.
Elder brother Richard's subsequent shot was saved by goalkeeper Guus Vogels at the expense of another set-piece.
At the second time of asking, East Grinstead's Ashley Jackson had his drag-flick saved.
Another Richard Mantell short corner was deflected wide before Holland hit the post - Robert van der Horst weaving his way past half-a-dozen defenders and chipping over McGregor.
A mistake in midfield by East Grinstead's Glenn Kirkham six minutes before half time released Ronald Brouwer but McGregor's quick presence put him off.
World's best
Holland won their first penalty corner in the first minute of the second half but Taekema, whose 150 goals in 176 games have made him the world's best set-piece specialist, was denied by McGregor.
They should really have taken the lead after Teun de Nooijer cut a pass back from the left to Matthijs Brouwer.
But, with a free shot at goal, he missed the ball.
Another Taekema corner was charged down before Richard Mantell had his set-piece well saved by Vogels to his right, a strike on the spin from Surbiton's Ben Marsden also just wide.
A run from Jackson on the hour created chances for both Surbiton's James Tindall and Reading's Jonty Clarke, with Vogels also palming away Tindall's reverse-stick shot.
It seemed as though GB could hold on when Sander van der Weide was sin-binned for fouling Barry Middleton with 10 minutes left.
But the match then swung decisively when Tindall was also sin-binned for tripping Timme Hoyng.
McGregor had just made a great double save but was powerless to stop Taekema's 63rd-minute penalty corner.
Despite the result, Lee was full of praise for his players.
"It is fairly well established that Holland are one of the best teams in the world and we're not but we are trying to push that kind of standard," he said.
"I think the game reflected that. We tried to play a game based on quality and hard work and if we did that we knew we could make it close - providing we didn't give corners away.
"I'm very proud of how we have played. We would have been very happy with a point but when you have been around international hockey long enough you know you have to play for 70 minutes."
Of Tindall's tackle, he added: "I have no criticism of James, he worked so hard to get there but that's what happens at the hard edge of international hockey."