Jankovic wins injury battle
Last Updated: 07/08/08 12:55pm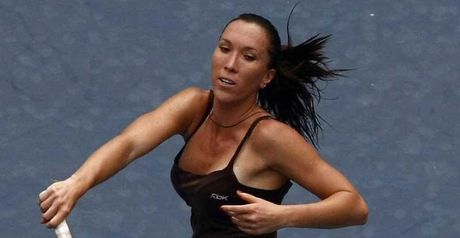 Jankovic: Injury battle
Incoming world number one delighted to win knee injury battle.
""To be honest I'd prefer to win the US Open but I would love to win both.""
Jelena Jankovic Quotes of the week
Jelena Jankovic says she is thrilled to have beaten a knee injury to make her Olympic debut at the Beijing tennis tournament.
The Serbian star was told nearly a month ago that she would need to take two months off away from the court to rest a knee problem.
Jankovic will usurp compatriot Ana Ivanovic as the new world number one during the Olympic tennis tournament, and she is thrilled to be competing at the Games.
After a fourth round Wimbledon defeat against Thailand's Tamarine Tanasugarn, Jankovic was told a knee cartilage problem could see her miss the Olympics and the US Open.
However, despite being restricted in her build-up to China, she will be in the competition and battling for Olympic gold.
"I feel great, I just practiced very hard," said Jankovic. "The conditions are quite tough but it's great to be here."
Concentrate
"I just want to concentrate on my game and try to keep improving.
"I hope to get on form as fast as possible because I was injured at Wimbledon. I've done a lot of rehab work on it and I'm just hoping to get back on form.
"I hope that every day it will get better and better.
"I was told I wouldn't play for a couple of months but I recovered in three weeks so I'm really happy."
Jankovic has been handed some help in the draw, as she faces the lowest-ranked player in the tournament - Zimbabwean Cara Black - in the first round, although she is taking nothing for granted.
"I'm just going to see how everything goes. I'm doing the right thing and not doing any activities with the knee," she added.
"I'm just doing some therapy and following the instructions from the doctors."
Jankovic has risen from third to first in the world rankings despite winning just one tournament this year as she has had some injuries and illness.
Although injuries to Maria Sharapova and the retirement of Justin Henin have helped her, she is still delighted to be top of the tree.
"I'm really proud that on August 11 I'll be number one. Despite a tough year where I've had a lot of injuries and sickness, it's a great achievement," she said.
"I feel great. I'm really happy. It was a childhood dream to achieve this ranking and finally I've joined a selection of great champions.
"I'm only the 18th player to make it to number one; not many have done that in history."
Grand Slam
Echoing previous comments from the likes of Lleyton Hewitt, Jankovic admitted that if it came down to it, she would prefer to win a Grand Slam at the following US Open rather than the Olympics.
"To be honest I'd prefer to win the US Open but I would love to win both," she said.
"In the Olympic Games sometimes the federation doesn't select a player or sometimes some of the best players are not playing but in a Grand Slam everyone plays.
"There's 128 players, it's a big draw."