Croat gunng for Brit
Croatian sailor going after Ainslie in Olympic regatta.
Last Updated: 06/08/08 12:04pm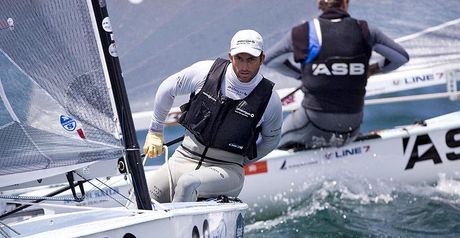 Ainslie: Gaspic target
Croatian sailor Kljakovic Gaspic is determined to learn his lesson from 12 months ago as he looks to defeat Ben Ainslie in the Finn class competition in Beijing.
Gaspic was leading the British star sailor 12 months ago in Qingdao in an Olympic test event when ha capsized his boat and threw away his chance of victory.
His blunder also cost him the chance of sealing a rare win against Ainslie, who has won Olympic golds at the last two Olympics - four years ago in the Finns and in the Laser class in Sydney.
24-year-old Gaspic insists he has well and truly learnt his lesson from last year, and will make no such mistake again.
"First, last and never again," Gaspic said. "I wanted it too much, I was not happy with second place.
"I was trying so hard, overreacted and I lost control of my boat and capsized."
Reason
"I said to myself it happened for a reason, for sure god did not want me to win because if I had I would have felt really powerful.
"I realised I had to work more and more and push myself hard."
The lanky Croatian, nicknamed Gaspic, says Ainslie will again be the man to beat for anyone wanting a Finn class gold in Beijing.
Gaspic accepts that Ainslie will be a hard man to beat, but says it will not be an impossible task in the light conditions that will be prevalent in Qingdao.
"He has been the best sailor in the Finn class for quite a long time. Everybody wants to beat him.
"He is a very hard opponent. If you want to beat him you cannot make mistakes. But he can make mistakes like everyone else.
"I will concentrate on myself, not him. I feel confident, I am relaxed and everything is ready for me. I don't have any worries."