Hewitt's Beijing race
Former world number one in fitness race for Olympics
By Paul Higham. Last Updated: 01/08/08 10:55am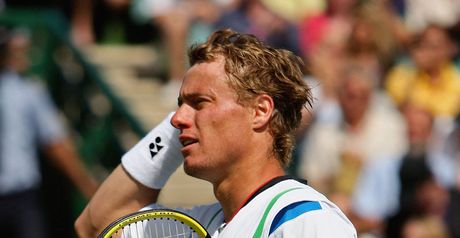 Hewitt: Injury worry
Lleyton Hewitt is desperate to be fit to play in the Olympics, and he will know whether he will be able to play in Beijing on Tuesday.
Former world number one Hewitt has not played since Wimbledon, where he lost in the fourth round in straight sets against Roger Federer.
A continuing hip problem has forced Hewitt to sit out and undergo intensive treatment in a bid to get him ready for the Olympics.
With the tennis competition starting on August 10, Hewitt has been working hard to try and regain his fitness in time for the tournament.
Manager David Drysdale says the former Wimbledon and US Open winner will find out on Tuesday if he is fit enough to head to China.
Tests
"I reckon by Tuesday afternoon we should know whether he's going or not," Drysdale told the Sydney Morning Herald on Thursday.
"I feel there's a very strong chance he's going to play, but I'm not going to say he's definitely playing because we can't rule out that he might pull up sore.
"He's been hitting again this week, and it's just about working out the levels of discomfort and whether some of the different bits and pieces (of treatment) that we've had done are making a difference.
"We're all hopeful that he'll be okay. There's no doubt about it, he really wants to play the Olympics."