Brits eye Beijing glory
Hockey stars hoping to gain advantage over rivals
Last Updated: 01/08/08 10:59am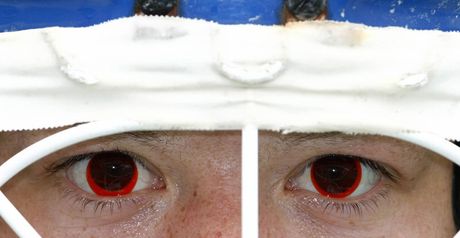 Beth Storry shows off the special contact lenses.
From detailed game plans to lightweight kits, Great Britain's women's hockey team are leaving nothing to chance in their bid for Olympic glory this summer.
The stars of 2008 are even using special contact lenses in an effort to gain an advantage over their opponents.
Just over a third of the side will be wearing orange-coloured lenses during matches in Beijing. They may look intimidating but their purpose is far from psychological.
"They're like sunglasses but as a contact lens so it just prevents glare," skipper Kate Walsh explained.
"Both the goalkeepers like to wear them and a couple of the girls do on a really bright day so you're not squinting a lot, which can cause headaches."
"They make them look like the devil," head coach Danny Kerry joked.
"They are high contrast but they also allow you to track the ball and one of the theories is that if you're squinting all the time, it actually fatigues your muscles quite heavily.
"The girls that have persevered with them swear by them."
The lenses have not been universally embraced, however.
"It was under preference whether people wanted to wear them or not," said defender Crista Cullen.
"We were trying them out quite a while ago now and some people don't like putting things in their eyes.
"I was completely concentrating on the fact that something was in my eyes rather than watching what was going on because I'm not used to using contact lenses. I don't wear them."
Kerry's side overcame New Zealand in a training game in Hong Kong on Monday during both the hottest and most polluted day the region had seen this year.
With plenty of column inches devoted to the potential impact of poor air quality on athletes this summer, it was perhaps surprising then that the head coach instead cited humidity as the biggest concern for the Olympics.
"We're pretty good in just raw heat but the humidity is the killer because your sweat doesn't evaporate and doesn't allow you to cool, so we have quite well-versed strategies to cope with all of that," Kerry added.
With that in mind, Team GB have been exceptionally meticulous in their preparation.
The lenses are just another example of how they have turned to science in their quest to add to a solitary bronze medal in the women's competition, won 16 years ago in Barcelona
"It's even more critical here, if you don't get it right here, you won't win. It's as simple as that," Kerry said.
"What's been important for Beijing has been substitution strategy, getting hydration right and having a core way of playing so when it's hot and humid and the girls are dead, they actually still know 'right, I'm supposed to do this job'.
"We have a lot of data on how quickly certain players decline at certain rates because, like basketball, you can roll players on and off.
"We know relatively accurately when players need to come on and off the pitch. When they come off the pitch they're sprayed with an ice-cold spray and in Beijing we have massive fans sitting behind the bench.
"They are weighed before the game, at half-time and after the game. They also take urine tests so we know what's going on in their bodies.
"Some of the preparation work we've done back in the UK was looking at the type of running that the different lines do, so we have little GPS units on them and we know that certain positions work in certain speed zones and do a certain number of sprints a certain number of times.
"So we know, for example, that the energy systems our forwards use are very fatiguing, so they rotate faster.
"Some of the forwards come off after five to six minutes because they are literally speed demons. They're built just to do sprints."
One drawback to the success of their approach is that other sports have attempted to prise Kerry's support team away.
"Some of our staff have been tapped up by professional teams," he added.
"But they're not interested because it's multi-million pound but not as professional, in their sense of the word."