Shunyi Olympic Rowing-Canoeing Park
Last Updated: 28/07/08 10:13pm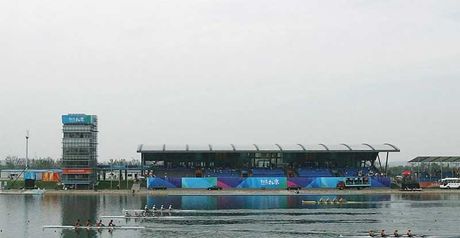 The Shunyi Olympic Rowing-Canoeing Park is the world's only first-class rowing-canoeing venue that contains both flatwater and slalom courses.
Venue: Shunyi Olympic Rowing-Canoeing Park Location: Mapo Village, Shunyi District, Beijing Type: New Events: Rowing, Canoe/Kayak, Marathon Swimming Floor area (sq m): 31,850 Permanent seats: 1,200 Temporary seats: 25,800 (10,000 for standing seats)
It has a capacity of 37,000 with 1,200 permanent seats and 25,800 temporary seats, plus 10,000 standing room only.
Built for the Games, it was opened in July 2007 after more than two years' construction and hosted the World Rowing Junior Championships.
It occupies the largest surface area of the Beijing Games venues and is surrounded by pleasant forestry, providing a natural 'oxygen bar'.
The venue will be converted after the Olympics into an attractive, world class resort for swimming and recreation.