Olympic Clockwatch
By Ben Linfoot. Last Updated: 24/08/08 10:25am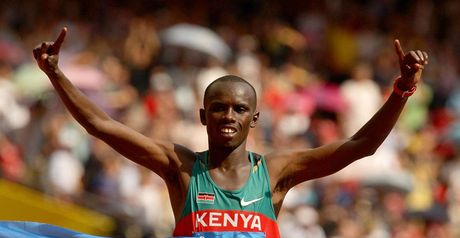 Wanjiru: Brilliant winner
Thanks for your company throughout a fantastic 16 days of action in Beijing during which Michael Phelps and Usain Bolt etched their names into Olympic history. It was also a superb Games for Britain with 19 golds surpassing all expectations. Triple champion Chris Hoy and the track cycling team led the way at the velodrome, while Mansfield now has its very own golden girl after Rebecca Adlington's double in the pool. Roll on London in four years time....
Handball - France notch the final gold of the Games with a 28-23 success over Iceland in the men's handball.
Water Polo - Hungary have closed out a 14-10 victory over the United States in the men's water polo final, prompting a pool invasion from their coaching staff. By my reckoning that leaves just the men's handball final left - France lead 24-17 against Iceland with about 18 gone in the second period.
Water Polo - Looks like gold is heading Hungary's way in the pool, they lead 14-9 against the United States with less than two minutes to go.
Boxing - The final boxing gold medal goes to Italian super-heavyweight Roberto Camarelle in emphatic fashion. He dominated to open lead 14-4 against Zhilei Zhang before a big right hand forced the referee to stop proceedings early in the fourth round. Audley Harrison won this title eight years ago so it's not all good news for Camarelle.
Handball - France lead 15-10 against Iceland at half-time in the men's gold medal match.
Basketball - The United States close out their first Olympic title since 2000 with a 118-107 win over Spain. The 'Redeem Team' have accomplished their mission in fine style.
Basketball - Another three pointer from Dwayne Wade keeps the United States' lead comfortable at 111-105. There is just over a minute remaining.
Basketball - Kobe Bryant drains a three pointer from down town to keep the United States in control at 108-101 ahead.
Basketball - The United States have opened a nine-point lead at 104-95 with four minutes to go in the men's basketball final. Redemption awaits for the NBA stars...
Boxing - Egan has to settle for silver as Zhang holds out for an 11-7 success. It was a close fight throughout and Egan certainly did not get much change out of the judges, which had been expected beforehand, although Zhang was probably just about worth the win.
Boxing - Another highly competitive round sees Zhang maintain a two-point advantage at 7-5. Egan looked to have been robbed of at least one point by the judges. I still think it's possible he could turn it around in the final two minutes.
Boxing - Zhang opens a 3-0 lead before Egan comes to life. The round is shared 3-3 meaning Egan still trails 5-3. Good signs for the Irishman though...
Boxing - Zhang leads 2-0 after a cagy opening round, both scoring shots coming from sharp jabs.
Boxing - Irishman Kenny Egan's light-heavyweight final against home favourite Zhang Xiaoping is about to get under way.
Water Polo - It's all-square at 3-3 with just under four minutes left in the first period of the men's water polo final between Hungary and the United States.
Basketball - Kobe Bryant has just drained a three-pointer to give the United States a 77-73 lead over Spain with just under five minutes left in the third period. Looks like it is going to the wire.
Boxing - Bakhyt Sarsekbayev of Kazakhstan wins the welterweight gold.
Boxing - Cuba's Oscar Suarez is fighting Bakhyt Sarsekbayev of Kazakhstan for the welterweight gold. Sarsekbayev leads 14-8 and looks a cert for the win.
Basketball - 69-61 to the USA at half-time in the basketball. Spain are hanging onto their coat-tails.
Basketball - 50-42 to USA in the basketball. Just five minutes to half-time.
Boxing - Tishchenko wins the gold. More queries about the judges scores, but I reckon the French can have no complaints there.
Boxing - Russia v France in the lightweight final, or more specifically Alexey Tishchenko v Daouda Sow. At the time of typing, the Russian leads 10-8.
Basketball - Sure enough, USA now lead 28-25. I've a feeling this could become predictable. Let's go to the boxing arena.
Basketball - The Spaniards have taken a shock 22-20 lead early doors against the USA. It won't last.
Some much needed encouragement from Graeme Purdy. He writes: "Come on!! Where are the jokes and anecdotes....don't give in now...one last push. Have loved all the commentary...more would be great... " I'll level with you Graeme, I'm flagging. Thanks for the feedback though! Someone else will take over the baton very soon, with renewed vigour for the day ahead. We hope!
Basketball - There's a break in the boxing, so we'll check out the basketball for a bit. The gold medal match has just started. It's the USA v Spain, and America lead 4-3 early in the first.
Boxing - Badar-Uugan Enkhbat of Mongolia beat Yankiel Leon Alarcon of Cuba 16-5 on points in the Men's Bantam Weight (54kg) Final.
Handball - Croatia lead Spain 14-12 at half-time in the bronze medal match.
Basketball - Argentina beat Lithuania 87-75 to secure the basketball bronze.
Volleyball - USA take gold! 25-23 in the fourth. A brilliant match and USA are the champions.
Volleyball - The USA have turned it around. They lead 22-20 now, and are edging towards the gold.
Volleyball - A stunning block from Brazil makes it 19-16 to them in the fourth against the USA, who call a time out.
Volleyball - This could be going to a five-setter. Brazil lead 16-14 in the fourth. It's been a cracking game, so much so I've neglected the handball. It's 8-8 between Croatia and Spain as they fight for bronze.
Boxing - Zou Shiming wins China's first ever boxing gold! He beat Serdamba Purevdorj of Mongolia who retired in round two. That's the 50th gold of the games for the hosts.
Volleyball - Yes they can! 2-1 to the USA who inch closer to gold.
Volleyball - 23-20 to the USA. Can they close out this set?
Volleyball - Enthralling gold medal match. USA lead 16-12 in the third. They're in command of this crucial set.
Volleyball - It's 1-1 in the volleyball now in a really tight match between the USA and Brazil. I can't call a winner. We've boxing to look forward to soon. Loads of finals. We've the light-flyweight, bantamweight, lightweight, welterweight, light-heavyweight and super heavyweight to look forward to. The highlight of the day, though, will now undoubtedly be the closing ceremony. I'll be long gone by then.
Volleyball - Brazil are 1-0 up on the USA in the gold medal match for the men's volleyball.
Basketball - It's half-time in the men's basketball bronze medal match. Argentina lead Lithuania 46-34.
Rhythmic Gymnastics - As predicted, Russia win the gold. I could judge this sport.
Rhythmic Gymnastics - China are in a silver medal position. That's fair enough. Me and the judges are on the same page.
Rhythmic Gymnastics - You just knew the Chinese would nail this sport. Wonder what the judges give them - it was on a par with the Russians for me. I labelled them gold medallists earlier.
Triple gold medallist Chris Hoy has been confirmed as the Great Britain flag bearer for the closing ceremony of the 2008 Olympics. "It is a huge honour to be carrying the flag at the closing ceremony," Hoy said.

"When you consider the standard of the team it is a very special honour for me"
Rhythmic Gymnastics - Excellent use of the hoopla by Russia. Gold medal performance for me.
Rhythmic Gymnastics - This is all I've got until the boxing at 0630. I'm no expert on the discipline I have to admit, but it is strangely transfixing. Girls. Sparkly suits. Ribbons. Pink sparkly suits. I'm off to slap myself in the face.
Volleyball - Russia have taken the bronze at the expense of Italy.
Rhythmic Gymnastics - With the volleyball all but over let's take a look at the rhythmic gymnastics. It's a light-hearted way to end the Olympics. No-one seems to be taking things so seriously. Young girls are wearing sparkling outfits. Here come the Ukraine. They do look serious.
Volleyball - What's been happening in the last hour or so I hear you cry. Not a lot. Russia are coasting to the bronze in their match with Italy in the volleyball.
There's a break from the action on the final day in Beijing. We'll be back later.
Athletics - Dan Robertson with a strong finish for Team GB. He finishes in 24th position.
Athletics - Tsegay Kebede robs his team-mate for bronze on the stadium lap. Fellow Ethiopian Deribe Merga limps in for fourth.
Athletics - Gharib comes home for the silver medal. It's a mile back to the bronze race.
Athletics - Wanjiru wins gold for Kenya! It's their first ever in the marathon. It's an Olympic record of 2:06:32.
Athletics - Wanjiru, with a huge beam on his face, salutes a packed Bird's Nest Stadium for his final lap. What a huge boost that roar of the crowd must be after almost 26 miles of hard slog. He's sprinting to the finish!
Athletics - Wanjiru approaches the Bird's Nest well clear. This has been a magnificent performance in the conditions. Gharib is plugging on for silver.
Athletics - Wanjiru's kicked for home! He's about 40 yards clear now. I reckon gold could be in the bag.
Athletics - Wanjiru leads by about a yard! Go on Sammy! Merga's right behind him, with Gharib on their heels in third. The rest are nowhere.
In the Bird's Nest there's kids on roller skates waving flags. The closing ceremony beckons...
Athletics - There's still half an hour to go in the marathon, but Wanjiru, Merga and Gharib are so far ahead the medal positions look assured... famous last words?
Athletics - There's a leading group of three now, with Gharib back up with Wanjiru and Merga.
Athletics - Now it's getting interesting. Lel and Kifle seem to be struggling. Merga's pushing the pace, and at the moment only Wanjiru is going with him. There's still over 12km to go.
Athletics - They're going world record pace in the men's marathon, though it's getting hotter and it'll be hard to keep it up. The breakaway group in the lead now contains five: Martin Lel, Sammy Wanjiru, Yonas Kifle, Deribe Merga and Jaouad Gharib.
Athletics - Now they're going quicker! They're racing just after halfway! It can't last. I predict it will all end in tears, a la Radcliffe.
Athletics - 1:02:34 at halfway. A crazy pace. Surely they cannot keep this up in 30 degrees heat? Is there a dark horse in behind who has judged the pace to perfection?
Athletics - The breakaway group in the lead now contains five. Ethiopia's Deriba Merga leads the leaders. Luke Kibet, the world champion, is one of those to drop off the leading group.
Athletics - Wanjiru is a loose cannon. Why did I trust him with my cash? He's upped the pace again. I don't think he knows what he is doing. I'm putting it down to youthful exuberance.
You think I'm flagging now, wait until the marathon finishes. There's a three hour gap until the next meaningful event. I'll be telling tales from my childhood. No-one will read. Suddenly I'm at a low ebb. Time to crack open the strawberries.
Athletics - In the small leading group there are two Eritreans. I'm pretty sure Eritrea haven't won a medal. Imagine if they nabbed one on the final day. I wasn't sure exactly where in Africa Eritrea was, so I looked it up. It's in the north-east, and is bordered by Sudan in the west, Ethiopia in the south, and Djibouti in the southeast, if you didn't know. And you're interested.
Athletics - Looks like the leading group are slowing down. Wanjiru has dropped to the back of it.
Athletics - The runners go past the entrance to the Forbidden City - the Chinese imperial palace from the mid-Ming Dynasty to the end of the Qing Dynasty. Now they run past the Egg. That's a theatre, I think.
Athletics - It's an interesting tactical affair. The field is strung out, and the breakaway leading pack continue to go clear. They've gone 10km in 29:25, pretty much world record pace.
Athletics - The Kenyans Lel and Wanjiru are settting a hot pace. They lead an early breakaway group of seven.
Athletics - Wanjiru is only 21-years-old. I'm on a youngster. He's up with the pace. The Beijing public are out in force, waving flags, supporting the runners.
Athletics - Dan Robinson's settled in the second group. They are still going a fast pace for the early stages of the race. Kenyans are positioned one and two.
Athletics - The Temple Of Heaven is a pretty, green park. Where's the smog? It looks beautiful. The conditions look perfect, if a little hot.
Athletics - I was wrong. They are actually going pretty quick in the early stages. The runners are making their way down a long, straight, flat road towards the Temple Of Heaven. What a lovely name. Sounds like an 80s soft rock album.
Found it. 98 men still running. All is well.
A phone is beeping in the office because it's low on battery. That's a cry for help. I hope nothing important happens while I hunt it down.
Athletics - It's a slow early pace. Very sensible given there's a long way to go. I should reveal I've had a bet on Sammy Wanjiru to win. I've no idea why. Maybe it's a cry for help.
Athletics - And, they're off! 98 men do battle over 26 miles in order to be crowned Olympic champion. Right, I'll be back in two and a half hours. I'm messing with you. I'm here for the night. The runners leave Tiananmen Square as I type.
And now, the end is near....It's the last day of Beijing 2008, and taking centre stage is the men's marathon - it kicks-off in about ten minutes. Stay tuned here for regular updates. Martin Lel is well-fancied to repeat his London success, while Dan Robinson runs for Team GB. We'll also keep you informed on all the events that are being wrapped up on this final day - from the boxing to the water polo. I can't believe it's over. We'll all be thinking of London 2012 when we see the extravagant handover at the closing ceremony. Anyone who fancies dropping me a line - feel free. I'm at ben.linfoot@bskyb.com. The final day of the 2008 Olympics starts here!