Aussies gunning for gold
World number one Australia looking for centenary victory.
Last Updated: 24/07/08 10:35am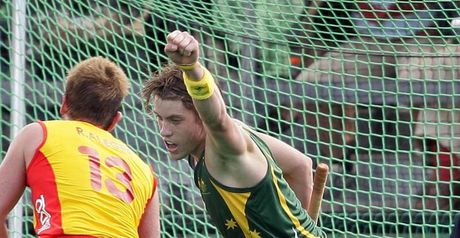 Eddie Ockenden scores for Australia
Australia coach Barry Dancer says his improving side are all geared up to defend their men's hockey title in Beijing in the centenary year of the sport.
The Kookaburras landed Olympic gold for the first time in Athens four years ago, but had trouble building on that display with defeats to Germany at both the World Cup and Champions Trophy.
However, Dancer's men have been rejuvenated recently and returned to the position as world number ones by toppling the Germans after winning last month's Champions Trophy in Holland.
The 12-team tournament in Beijing promises to be the tightest of competitions in history, says Dancer, who is expecting a tough ride.
"Teams such as Germany, the Netherlands and Spain are all quality teams who, along with a number of other countries, are all capable of winning gold at Beijing," Dancer said.
"But in saying that, the Australian team has shown steady signs of improvement throughout the last six months and deserve whatever praise comes their way."
India absence
It promises to be a battle royal in the centenary year of men's hockey at the Games, with it first being introduced in London in 1908 and becoming a regular at the Amsterdam Olympics in 1928.
The 100th year of Olympic hockey will strangely take place without the previously all-powerful India team - who won six consecutive titles from 1928 to 1956 and golds again in 196 and 1980.
However, the Indians will miss this year's tournament for the first time ever after losing an Olympic qualifying tournament against Great Britain, having previously failing in the Asian Games.
"No one wanted to see India out of the Olympics but the reality is that the best 12 nations have qualified for Beijing," said International Hockey Federation (FIH) chief Els van Breda Vriesman.
"The hockey world will obviously miss India, but I am confident they will come back stronger and ready to take on the world again."
The Germans will also offer a strong challenge after their World Cup win, and it is they now who are seeking revenge against the Australians after losing their spot at number one.
Germany's last Olympic title came in Barcelona in 1992 and they will be looking to improve on a disappointing bronze medal in Athens.