1984 - Los Angeles
Last Updated: 20/06/12 1:36pm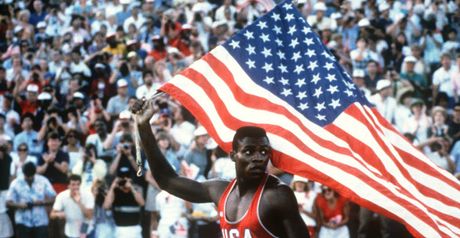 Carl Lewis: Became an American hero.
A revenge boycott led by the Soviet Union saw 14 eastern Bloc nations pull out of the Los Angeles Games, after the USA refused to take part in Moscow four years earlier.
In this Year...
O.J Simpson was amongst the 3,616 torch bearers who ran the Olympic Flame from New York to LA.
Torvill and Dean win gold at the Winter Olympics in Sarajevo with their famous Bolero routine.
European Champions France do the double by winning the Olympic football tournament.
English champions Liverpool win a fourth European Cup as Bruce Grobbelaar's 'spaghetti legs' helps them beat Roma on penalties in Rome.
Richard Branson's Virgin Atlantic airline makes its inaugural scheduled flight between Gatwick and Newark in New York.
Ghostbusters is released along with iconic 80s films Karate Kid, Beverly Hills Cop, Gremlins and Footloose.
Bob Geldof and Midge Ure form Band Aid and their charity single 'Do They Know It's Christmas?' becomes the Christmas No.1.
The Olympics moved east to west after Los Angeles remained the only city to bid for the Games, and they were determined not to build-up the huge debts accrued by Montreal and Moscow.
With the Games being staged without government financing for the first time since 1896, they unsurprisingly took the decision to use many existing sporting arenas around California instead of building a host of new facilities.
This brought criticism, as did the raft of corporate sponsorship that saw athletes compete in the McDonald's Swim Stadium and 7-Eleven Velodrome - but these Games provided a model for future years after revealing they made a profit of $220 million.
With so many Eastern European powerhouses absent, America took their chances and dominated the medal table American sprinter Carl Lewis was the star of the show as he bagged four gold medals to match the achievement of countryman Jesse Owens way back in 1936.
Britain's Sebastian Coe became the first man to retain the 1,500m title, beating Steve Cram into silver, while also taking silver in the 800m.
Daley Thompson, at his third Olympics, saw off Germany's Jurgen Hingsen in a titanic struggle to win consecutive gold medals in the decathlon while Tessa Sanderson and Fatima Whitbread claimed gold and bronze in the javelin.
Rower Steve Redgrave won his first gold medal as part of the coxed fours, while future basketball legends Michael Jordan and Patrick Ewing won the gold medal for the USA team.
Joan Benoit won the inaugural women's marathon and Connie Carpenter-Phinney the first women's cycling road race.
Nawal El Moutawakel, in the 400m hurdles, became the first woman from an Islamic nation to win an Olympic medal and the first Moroccan athlete of either sex to win a gold medal.
Archer Neroli Fairhall was the first paraplegic athlete to take part in a medal event when she competed in a wheelchair.Olympic Stars:
What can you say about the performance of Carl Lewis in Los Angeles? There may have been a few athletes missing due to the boycott but Lewis was utterly dominant anyway - as he only needed two jumps, just one legal, to win the long jump gold.
That came after a cosy win in the 100m final, and a similar one came in the 200m as he set a new Olympics record, before anchoring a world record and fourth gold in the 4x100m relay - equalling Jesse Owens' great record.
A grinning, back-flipping Daley Thompson provided one of the iconic images for Great Britain in all Olympic history - not just in 1984 when he claimed back-to-back decathlon golds.
Thompson led from start to finish in LA in his battle with world record holder Jurgen Hingsen, and although he looked to have missed out on a new world record his score was later improved to give him sole ownership of the world's best score.
Chinese star Li Ning collected six medals in gymnastics, three of them gold, two silver and a bronze in a performance that led to him being called the 'Prince of Gymnasts' back in China.
Gold in the floor, and shared golds in the pommel horse and the rings gave him cult status in his homeland and he was honoured by being tasked with lighting the Olympic Cauldron at the 2008 Olympics in Beijing.
Sebastian Coe managed to replicate his fine results from four years earlier as he came successfully defended his 1500m title but was again forced to settle for silver in the 800m as his double bid was thwarted again.
Also like Moscow he had to survive a massive duel with a fellow Britain as this time Steve Cram pushed him all the way in the 1500m after Steve Ovett had chased him home in Russia.