1980 - Moscow
Last Updated: 20/06/12 1:37pm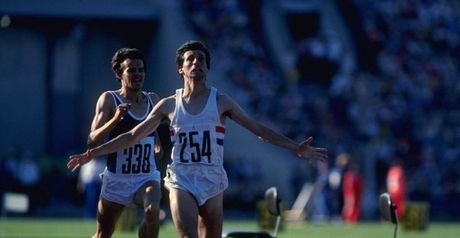 Coe: won gold and silver
Another boycott, led by the USA against the invasion of Afghanistan, reduced the number of participating nations to 80 which was the lowest amount taking part since 1956.
In this year...
Former Beatle John Lennon shot and killed outside his apartment in New York.
Robert De Niro wins Best Actor at the Oscars and Golden Globes for Raging Bull.
Ronald Reagan is elected as president of the United States.
Magnum P.I premieres on US television, while millions tune in to discover who shot JR Ewing in Dallas.
Two top sequels are released as The Empire Strikes Back and Superman II hit the big screens.
Both gold and silver medal winners in the men's coxless pairs in the Olympics were identical twins.
Jack Nicklaus wins US Open and USPGA to take his major tally to 17 in his eventual record of 18.
The first camcorders and fax machines are available in Japan, while Pac Man and Post-It Notes are released.
Both gold and silver medal winners in the men's coxless pairs in the Olympics were identical twins.
US President Jimmy Carter threatened to revoke the passport of any American athlete who tried to travel to the USSR, although other governments - including Britain and Australia - supported the boycott but allowed athletes to decide for themselves.
This huge boycott led to some events such as equestrian and hockey so suffer badly, but in many such as boxing, swimming and rowing there were actually more participants than four years early.
The inaugural women's hockey event was worst hit and left just Russia as the only entrants. An S.O.S went out to Zimbabwe to send over a team, who picked a team just a week before the Games - but they arrived and duly won!
Russian gymnast Aleksandr Dityatin earned medals in every men's gymnastics event to become the first athlete ever to win eight medals in one Olympics.
The dramatic confrontation between British runners Steve Ovett and Sebastian Coe became one of the highlights of the Games, as they slugged it out for the 800m and 1500m titles in Moscow.
Ovett sprung a surprise by beating Coe in the 800m, and then looked odds-on for a double after a 45-race winning streak in that distance, but he was held at by as Coe gained revenge.
Daley Thompson won his first gold medal in the ultra-tough decathlon, while another charismatic character shone in the pool as Duncan Goodhew claimed gold in the 100m breaststroke.
Scottish sprinter Allan Wells took advantage of the lack of Americans by pinching the 100m gold in a thrilling photo finish, and just missed out on a double when second in the 200m.
Gerd Wessig became the first male high jumper to break the world record at the Olympics while swimmer Vladimir Salnikov broke the 15-minute barrier for the 1,500m.Olympic Stars:
Known as 'Whipper', Scotsman Allan Wells became a rare 100m champion for Great Britain as he produced an extreme finish-line lean to pip Cuban favourite Silvio Leonard in a photo finish.
Both men were awarded the same time but Wells took gold, and just missed the 200m title when just headed in another close finish. Despite criticism of his victory due to the boycott, Wells beat all-comers, including Carl Lewis, after Moscow to prove his ability.
Aleksandr Dityatin was the dominant force in gymnastics in Moscow as he picked up medals in every men's gymnastics event to become the first athlete ever to win eight medals at one Olympics.
Michael Phelps has since equalled that mark but Dityatin's seven individual medals is still a record, but the gold medallist of the all-round competition and on the rings was forced to retire shortly after 1980 due to an injury suffered in training.
Cuba's Teofilo Stevenson became the first boxer to claim three consecutive Olympic heavyweight titles, and just the third to claim three Olympic boxing golds alongside fellow greats Laszlo Papp and Felix Savon.
Stevenson was known for being almost unbeatable and along with three Olympic titles he also claimed three World Amateur Championship crowns to emphasis the point.
Vladimir Salnikov was the master of the long distance freestyle races, and he picked up three golds in Moscow in the 4x200m, 400m and the 1500m - where he became the first man to go under 15 minutes for the event.
After conquering what was swimming's four-minute mile, Salnikov missed out on taking part in LA in 1984 because of a boycott, but showed his power by returning in Seoul in 88 to claim another 1500m title.