Laoshan Velodrome
Last Updated: 15/12/09 8:53pm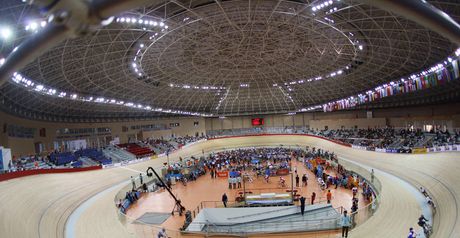 Laosham Velodrome is nicknamed the "Flying Saucer" and from the outside it's not hard to see why.
Venue: Laoshan Velodrome Location: Beijing's Shijingshan District Olympic Events: Track Cycling Total land surface: 32,920 sq m Seats: 3,000 permanent/3,000 temporary Groundbreaking date: October 30, 2004 Completion date: December 2007
Located in Beijing's Shijingshan district, spanning 32,920 sq m, this huge dome-shaped structure will host the track cycling events at this summer's Olympic and Paralympic Games.
It was completed at the end of 2007 after three years of construction and has a capacity of 6,000 seats, of which half are temporary.
This 33.8metre high building is spectacular from the inside with the vast lattice-framed roof catching the eye above the 250m-long all-weather wooden cycle track, which is lined by the blue spectator chairs.
But perhaps the most intriguing part of this technological masterpiece is the round scuttle, 56m in diameter, which sits in the central area of the skeleton structured crown.
It uses solar power for lighting and diffuses sunlight to avoid light spots forming on the track, which would glare the riders. The scuttle's windows are also set to disperse smoke in case of fire emergencies.
Although the velodrome is naturally bright inside, it's still fitted with 230 strategically placed overhead lamps to make sure all areas of the arc track are well lit.
To adapt to the lighting needs of different parts of the arc track, the velodrome's 230 overhead lamps are equipped with special materials placed in different positions.
The venue also uses a super-size lift, which is able to carry the Paralympic athletes, wheelchair users, assistants and also an ambulance if needed.
After 2008, it will become a training base for international teams and a venue for future large-scale cycling.
Away from the velodrome, the Laoshan will also host the Mountain Bike event at it's specially designed course which allows for up to 17,000 people - 2,000 seated - to watch.
The BMX event, making its Olympic debut, will take place at the Laoshan Bicycle Moto Cross Venue while the road cycling will be held at the Urban Cycling Road Course, which takes riders from Yongdingmen to Juyongguan.