National Indoor Stadium
By Paul Higham. Last Updated: 26/11/09 1:05pm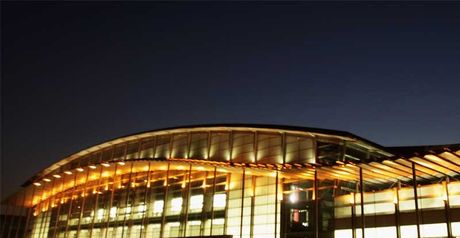 The National Indoor Stadium is in Beijing's Olympic Green and takes its place alongside the two other major structures for the Games in the National Stadium and National Aquatics Centre.
Venue: National Indoor Stadium Location: Olympic Green Total land surface: 80,900 sq m Olympic Events: Artistic Gymnastics, Trampolines, Handball Groundbreaking date: May 28, 2005
Although not as spectacular at first look as the Bird's Nest, which will be the centrepiece for the Olympics, or superbly futuristic Water Cube which will stage all the aquatic action, the National Indoor Arena will still be one of the best sporting facilities not only in Beijing but around the globe.
The National Indoor Arena will stage the artistic gymnastic competition, along with the handball and trampoline events at the Olympics, while after the games the wheelchair basketball at the Paralympics will be held there.
Work started on the arena in May 2005 and the sizeable 80,900 square metre venue was opened in November 2007 when it staged an international artistic Gymnastic tournament in an Olympic warm-up.
Situated on the southern part of the Olympic Green, just next to the Aquatics Centre, the National Indoor Stadium has a capacity for 18,000 spectators and consists of a main arena structure with a small warm-up gym nearby along with several outdoor facilities.
The sweeping style of the roof structure was designed to look like a traditional Chinese fan opened up, which locals say is a key part of their culture to be included in the Olympic buildings.
Nine robots were used in the construction of the huge steel roof which sits 144 metres high on top of the building and stretches 114 metres in width, while a massive wall of glass known as the 'glass curtain' covers the stadium in energy-efficient glass, which also covers a hidden solar power system of 1,124 panels to help power the arena.
Acoustics and sound insulation has been a big priority in the project, as after the Games the stadium will be used for cultural and musical events along with sporting competitions.
Even the grey seats inside the stadium, which have a special advertising space on the back, have been made specifically for the venue and have been manufactured to be noise-free as well as comfortable.
The National Indoor Stadium will retain its importance after the Olympics as one of Beijing's foremost multi-functional venues to host sport, entertainment and the arts, alongside a role as a exercise facility for locals.