National Stadium
By Paul Higham. Last Updated: 26/11/09 1:05pm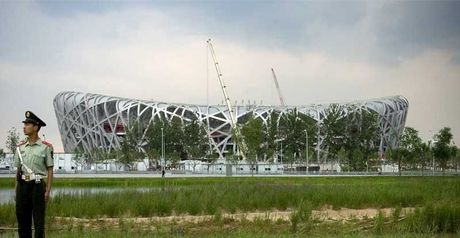 The distinctive Bird's Nest stadium is set to become the image of Beijing 2008 and will be a fitting stage for the Games' most prestigious event - the athletics - as well as the opening and closing ceremonies.
Venue: National Stadium Location: Olympic Green Olympic Events: Athletics, Football Permanent Seats: 80,000 Temporary Seats: 11,000 Groundbreaking date: December 2003
Situated to the east of the aquatics centre in Olympic Green, the National Stadium was completed at a cost of around £250 million - less than a third of the cost it took to redevelop Wembley. Thirty-six kilometres of unwrapped steel, with a combined weight of 45,000 tonnes, was used to create its unique look latticed look.
It will seat 91,000 during the Olympics, a capacity that will be reduced to 80,000 after the Games when it will be used primarily for football.
It is 330m long and 220m wide and has a total land surface of 258,000 square metres. It was designed by Swiss architects Herzog & DeMeuron and the China Architecture Design Institute.