National Aquatics Centre
Last Updated: 15/12/09 8:53pm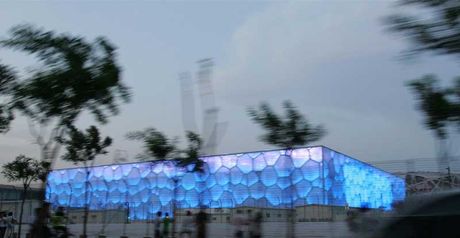 Along with the Bird's Nest of the National Stadium, Beijing's other centrepiece completed for the Games is the wonderfully futuristic National Aquatics Centre - known as the Water Cube.
Events: Swimming, Diving, Synchronized Swimming Location: Olympic Green Total land surface: 79,532 sq m Seats: 6,000 permanent/11,000 temporary Groundbreaking date: December 24, 2003 Completion date: January 28, 2008
What will undoubtedly by an iconic structure in Beijing for years to come took over four years to construct, and is one of the most spectacular and unusual sporting venues in the world.
Sitting just opposite the National Stadium on the main Olympic Green in Beijing, the huge blue structure will host the swimming, diving and synchronised swimming events and in all 42 gold medals will be handed out for aquatic excellence.
The only Olympic venue to be funded purely by donations from compatriots, the National Aquatics Centre will seat 17,000 spectators for the games - 6,000 permanent seats and an 11,000-strong band of temporary seating.
The NAC has been designed and built to be one of the most environmentally friendly arenas in the world - which is why the futuristic 'bubble' effect has been used for the outer covering.
A membrane structure made of the 'King of Plastic' by ETFE (Ethylene Tetrafluoroethylene) entombs the building and this ultra-tough plastic forms air cushions which not make economical and environmental sense, but also add fantastically to the overall look of the venue.
The ETFE is lighter than glass meaning that the steel infrastructure cost less, while it also allows more heat and light through meaning a 30 percent saving on energy costs.
It is also a water-saving marvel with the plastic membranes able to collect tons of rain water, clean water and swimming pool water annually - with a boast of also saving 140,000 tons of recycled water a year.
Designers say that despite it being made of plastic the building will still last at least a century, with the tough ETFE being able to withstand harsh weather conditions such as high winds of heavy rain and hailstones.
Beijing planners have gone to great lengths to avoid any speeding up of the deterioration process, with special bird wires strategically placed to avoid and claws scratching the panels, while a small moat has also been built around the base to avoid human hands damaging to cells when trying to inspect the engineering marvel close up.
Lighting up a brilliant shade of blue at night, the Aquatics Centre is truly a huge bonus for the Chinese organisers and will be a fitting venue to some of the most thrilling and popular events in the Games.