GB keep the faith
Craddock passed fit, set to become youngest player to represent GB
Last Updated: 09/07/08 10:38am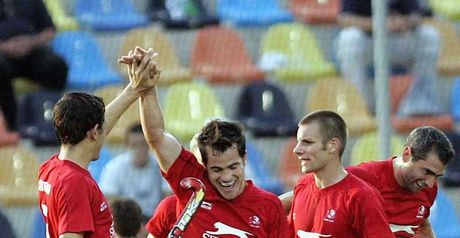 All 16 players who helped Great Britain's men's team qualify for the Olympics have been included in the squad to play in Beijing.
Only three of the party - Barry Middleton, Rob Moore and Ben Hawes - have previous Games experience having played in Athens four years ago.
The men face defending champions Australia, Holland, Pakistan, South Africa and Canada in their pool.
Meanwhile, defender Charlotte Craddock has overcome a stress fracture of the back to secure her place in the women's squad which includes 12 of the players who won bronze at the 2007 EuroHockey Nations Championships.
The 17-year-old will become the youngest player to represent GB at the Olympics, succeeding Russell Garcia who was 18 when he played in the 1988 gold medal-winning side in Seoul.
Britain's women have been drawn in a pool with Olympic champions Germany, as well as Argentina, Japan, New Zealand and USA.
Great Britain hockey squads:
Men: A McGregor (GK), J Bleby, (Loughborough Students); R Alexander, M Daly, B Hawes, B Marsden, R Moore, J Tindall (Surbiton), J Clarke (Reading), S Dick (Inverleith); A Jackson, G Kirkham (East Grinstead), R Mantell, S Mantell (Reading), B Middleton (HGC); A Wilson (Beeston)
Women: B Storry (GK, SCHC), J Bimson, C Cullen, A Panter, H Richardson (Leicester); M Clewlow (Canterbury); C Craddock (Cannock); K Walsh (capt), A Danson (Slough); J Ellis (Ipswich); J Ellis (Bowdon Hightown); C Rogers, L Wooding (Chelmsford); S Thomas (Rotterdam); R Walker, L Wright (Olton)