Swimming highlights
Last Updated: 24/07/12 12:49pm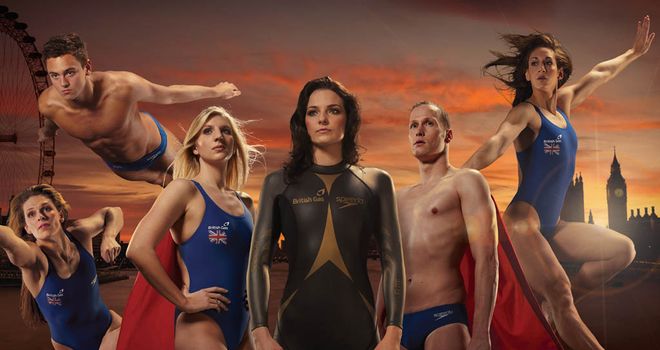 Best of British: GB swimmers in action
We run through the highlights of the Olympic swimming schedule
SATURDAY, JULY 28
Kosuke Kitajima launches his bid to win the 100 metres breaststroke crown for a third Olympics in a row, but the event will be the poorer for the tragic absence of Norway's world champion Alexander Dale Oen, who died earlier this year. After claiming the silver medal at last year's World Championships, all eyes will be on Hannah Miley to secure the first British medal in the pool in the women's 400m individual medley.
SUNDAY, JULY 29
Can Kitajima make history in the men's 100m breaststroke? In the butterfly, Ellen Gandy, fifth in Shanghai, and Fran Halsall could feature for Britain but Swedish teenager Sarah Sjostrom is destined to make a big impact in London. Home eyes will be on defending 400m freestyle champion Rebecca Adlington. Frenchwoman Camille Muffat is on awesome form this year and set a textile world record in March while world champion Federica Pellegrini will be looking to atone for Beijing.
MONDAY, JULY 30
Liam Tancock seeks an Olympic medal - the only one missing from his collection - in his sole individual event in London in the men's 100m backstroke. London could well witness a ding-dong battle between defending champion Michael Phelps and Ryan Lochte in the 200m freestyle. In the women's backstroke, former world champion Gemma Spofforth will look to improve on her agonising fourth in Beijing. However, step forward Missy Franklin, the American 17-year-old who could well be taking up residence on the London podium.
TUESDAY, JULY 31
Phelps is unbeaten in global competition in the 200m butterfly since the 2000 Olympics in Sydney, with Takeshi Matsuda, Nick D'Arcy and Laszlo Cseh providing the challenge. As in the 400m, Muffat set a new textile world record over four lengths earlier this year and is sizzling, as is American Allison Schmitt. Sjostrom too lurks, as do defending champion Pellegrini and Franklin.
WEDNESDAY, AUGUST 1
In the men's 100m freestyle, Australia's James Magnussen has been threatening Cesar Cielo's world record and is set to be one of the stars of London. Kitajima tops the rankings in the 200m breaststroke but expect a strong challenge from team-mate Ryo Tateishi as well as Hungary's Daniel Gyurta, 2004 silver medallist aged just 15. Gandy finished second in the 200m butterfly in Shanghai last year and is a real title contender.
THURSDAY AUGUST 2
Lochte will look to defend his 200m backstroke title before immediately returning to the pool for the individual medley where he will renew rivalries with Phelps in what is set to be one of the races of the championships. It took a new world record - the first long course mark since turbo suits were banned - from Lochte to edge out his USA team-mate in Shanghai last year. Fran Halsall faces an almighty challenge to see off the likes of Franklin, Sjostrom and Ranomi Kromowidjojo as well as defending champion Britta Steffen in the 200m freestyle. Rebecca Soni will have to hold off the fast-finishing Yuliya Efimova if she is to retain her 200m breaststroke title.
FRIDAY AUGUST 3
All eyes will be on Adlington to see if she can successfully defend her 800m freestyle title. Expect a strong challenge from Lotte Friis and Kate Ziegler but the Briton has been consistently superb this year. Former European champion Lizzie Simmonds spearheads domestic backstroke hopes but faces the might of world champion Franklin, also the world short-course record holder. Cielo faces off against Magnussen in the men's 50m freestyle sprint while Phelps, unbeaten over 100m butterfly since 2005, will take on a resurgent Milorad Cavic, who has always been convinced he was the 2008 champion.
SATURDAY AUGUST 4
Halsall will again have it all on to secure a medal in the one-length dash but earlier this year equalled Inge de Bruijn's textile world record from Sydney 2000. Kromowidjojo subsequently eclipsed that. A medal is not out of the question for the women's medley relay. Sun Yang could take the 1500m into uncharted sub 14:30 territory while the medley relay will be the last time Phelps is seen on the global stage.