Gunnell's praise for Perri
Former Olympic champion praises Sky Scholar
Last Updated: 08/03/12 4:40pm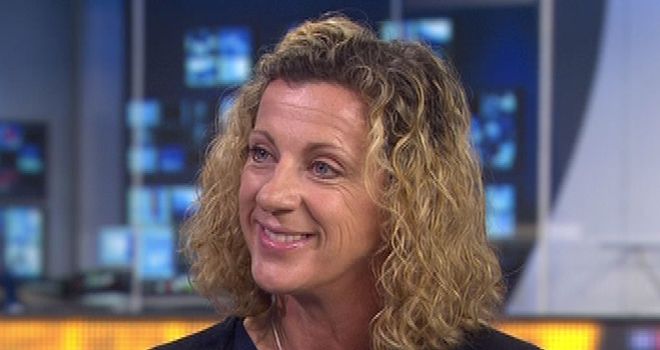 Sally Gunnell: Olympic champion
Olympic champion Sally Gunnell says Sky Sports Scholar Perri Shakes-Drayton could emulate her and find herself on the podium at London 2012.
Gunnell captured gold at the 1992 Olympics in Barcelona in the same 400m hurdle event that Shakes-Drayton takes part in.
London girl Shakes-Drayton will be one of the most at home athletes at the Games given she grew up locally, and hopefully the home crowd advantage can spur her on to glory.
The 23-year-old won bronze in the 400m hurdles at the 2010 European Championships, but then agonisingly missed out on the World Championship final in Daegu last year.
That result has given her extra motivation for London 2012 though, and when Gunnell stopped by at Sky Sports News on International Women's Day, she insisted that Shakes-Drayton could pick up a medal this summer.
Talented
"She's got everything that it takes," said Gunnell. "She's a very, very talented athlete, and if she finds herself in that final I always say anything can happen.
"She's a local girl, she's had a great winter training, she's running the four-by-four at the World Indoors which I think is a really good thing for her to do and I think it's all going in the right place."
Gunnell says that the 400m hurdles is one of the most technical events on the track, and that also means that anybody can win the Olympic final if the pressure gets to the more established athletes.
If the British hopeful can handle the pressure of being at home, and her personality certainly suggests she will relish having the crowd behind her, then technique could bring her a medal chance.
"There's some very talented girls that will be in that final but I would say she's somebody that, like I say if you get into that final and anything can happen," Gunnell added.
"Especially in the hurdles, you get that stride pattern right you've knocked off half a second or a second and you've got a medal."