Gooding's battle
Olympic hopeful admits preparation is weighed down by funding worries
By Emma Bird. Last Updated: February 29, 2012 10:17am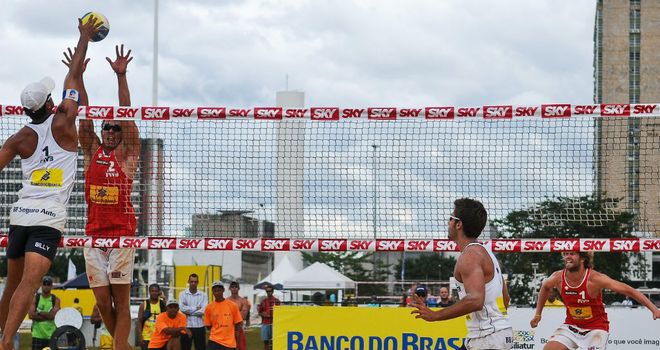 Jody Gooding: The beach volleyball star is aiming to attract sponsors so he can focus purely on Olympic competition.
The Olympic qualification period is now in full swing for British athletes and all eyes are on the London Games with less than six months to go.
However, for Team GB's beach volleyball hopefuls, they have another, more unwelcome, focus on their sponsorship and funding situation, which could yet see them unable to compete at their home Olympic Games.
"It's been very difficult finding sponsors and it takes a bit of the enjoyment out of it really."
Jody Gooding Quotes of the week
Jody Gooding, who partners Gregg Weaver on the beach volleyball circuit, told Sky Sports News Radio that although he gets to live in beautiful surroundings in Los Angeles, it is proving very stressful having to think about funding this close to the Olympics.
Limited
"It is nice being here but it's very stressful not knowing how much of the tour we can play and whether we can continue on to the Olympics.
"It's been very difficult finding sponsors and it takes a bit of the enjoyment out of it really. We are unsure how far we can continue at the moment with the limited funding," he said.
With the British Volleyball Federation (BVF) cutting the male team's funding in 2010, it has been a constant struggle trying to find financial support whilst maintaining training ahead of 2012.
The GB blocker added: "When the funding got cut, it did motivate us even more but it is an expensive sport to play, travelling across the world. We are still about £25-£30,000 under the funding we need to be able to continue."
The 31-year-old is keen to emphasise that he does not want to appear as though he is begging however the support of one or more companies would help the team drastically. It would also give businesses the chance to get exposure as a sponsor of an Olympic beach volleyball team.
Having started out in indoor volleyball when he was aged 12, the athlete from Gloucestershire gradually found his way onto the sand and learnt the game inside out in Australia and California.
He moved to LA in January, where his training partner Weaver now lives, in a bid to become the best team they can be ahead of July.
Sky Sports News Radio
Click Here to listen to full audio interview with Great Britain's Jody Gooding.
The pair train six days a week and Gooding admits the sport is physically demanding, particularly due to the fact it is played on sand.
Qualification
He said: "Moving on the sand can be difficult, people struggle to walk on sand, and yet we are sprinting, running and jumping- you've got to be pretty fit.
"It's a combination of explosive, power sport as well as needing endurance because games can be in the heat and you are running around in the sand for up to an hour."
Gooding, who is married to fellow GB beach volleyball star Denise Johns, is training hard in the build-up to this summer, with six more qualifying tournaments still to come.
The Olympic qualification period began in April last year in Brazil, with a total of 12 tournaments throughout the 2011 season. The successful team representing Great Britain this year will be the one with the best 12 results across the entire year-and-a-half period.
After playing in the test event last year, the Liverpool fan is extremely excited by the prospect of performing in front of a home crowd, if he should be lucky enough to qualify.
He added: "Ever since I was young I have wanted to qualify for the Olympics. The test event in August was incredible just to see what it will be like this year.
"It was great to see the British public really take to it. It is just great to have a sport like beach volleyball played in such a historic, unique site."
For more information about Jody and the team please visit www.jodygooding.com.