Baggaley on top form
British hopeful admits he is prepared for Olympic battle
By Emma Bird. Last Updated: 17/02/12 1:01pm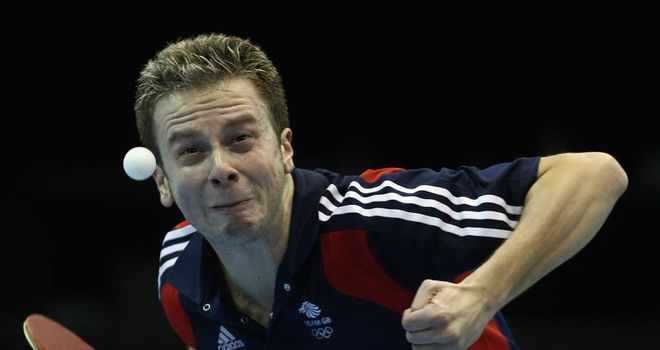 Andrew Baggaley: The British hopeful is ready for the 2012 challenge.
With 2012 now well underway, there is no better time in an athlete's life to be at peak sporting fitness.
Going into the final Olympic qualification tournaments as British number one, table tennis star Andrew Baggaley told Sky Sports that he is currently in the "best form of his life."
The 28-year-old, who has played the sport since he was four, added: "Results wise, I am in a good place right now. All the results matter this year; I have all the experience there but I am still improving my level.
"I'm having a good year, playing really well and getting some good results."
Having made it to the latter stages of the World Tour in Hungary in January, Baggaley found himself in the last 16 of the men's singles event for the first time in his professional career.
Qualifications
The Milton-Keynes based hopeful said: "I had a great competition in Hungary, I really pushed on which is a good sign at the start of this year.
"I am now in a good position with the English Championships coming up as well as the European Qualifications in April."
The European's, held in Luxembourg, are the penultimate opportunity for players to qualify for the Olympic Games, before the final chance in Qatar in May.
"I'm having a good year, playing really well and getting some good results."
Andrew Baggaley Quotes of the week
Although Baggaley is at number one in the British rankings, Sheffield-based player, Paul Drinkhall, is sitting just behind him in second place.
However, as Baggaley's coach and brother, Stephen, explains to Sky Sports: "There is quite a gap at the moment between the top three and the player in fourth position, so you would like to think that Andrew's place is fairly secure.
"Having said that, Andrew wants to get there on his own merit and not rely on current standings."
For the 2012 hopeful, who plays in the French league twice a month, the attention is now very much on international events as the Games draw near.
"First of all, it is about getting to the Olympic Games. Sport is so unpredictable, so for me, I just need to concentrate on reaching the Games," he said.
"It is one of the toughest aspects this year. Everybody is training so much harder and playing levels have increased. 2012 has given every single player a goal and so they are all striving for that."
Schedule
However, one interesting point Baggaley referred to was his training schedule in the lead up to the big event.
He added: "My schedule has not actually changed dramatically as I have always trained for five-six days a week. Sometimes by changing a training schedule too much, it can have negative effects."
Keeping to his regular routine, the music-mad athlete appears to be confident ahead of the final qualifying rounds and is excited by what 2012 will mean for him and the sport of table tennis.
"These will be my first Olympic Games. I think they will be special due to the build-up and hype surrounding them; it will be the best tournament I will ever play in.
"The Games will also be important as our sport needs the media coverage and if children can be encouraged to get into this sport, then it can only be a good thing," he said.
The 2002 Commonwealth double gold medallist is determined to use the home crowd to his advantage this summer. He concedes that he is not afraid of facing world-leading Chinese opponents at the Games.
"The Chinese are amazing players and you do have to do something extra special to beat them but it is possible.
"In the first rounds they are fantastic but sometimes not as motivated early doors. When they are on an Olympic stage they have such high expectations placed on them, they feel greater pressure than we do," he added.
With this relaxed mentality, as well as the confidence he gained after playing well at the Olympic test event last year, Baggaley is now more ready than ever to face the exciting challenges 2012 has to offer.