Golden Wonders
We speak to five of Britain's great Olympic gold medal winners
By Paul Higham Twitter: @SkySportsPaulH. Last Updated: 23/07/12 2:20pm
With the Olympics upon us and Team GB hoping to captured a bag full of medals at London 2012, Sky Sports looks back at five of Britain's Olympic champions of the past.
From Sir Steve Redgrave back to Dame Mary Peters, some of Britain's best spoke to Sky Sports News Radio about their thoughts on London 2012 and all things Olympics.
Here's what Great Britain's finest had to say..
Sir Steve Redgrave
Arguably Britain's greatest ever Olympian, Redgrave captured five rowing golds over such a glorious career in a GB boat. Having such success over such a prolonged period of time and in such a tough event really puts Redgrave at the top of the argument for best Olympian of all time let alone Britain's best. Starting all the way back in LA in 1984 and ending in Sydney, few athletes will ever enjoy a career like Redgrave's.
Click Here to listen to the full audio interview with Sir Steve Redgrave.
Sally Gunnell
Britain's golden girl of the 1992 Olympic Games in Barcelona, Gunnell won the 400m hurdles in superb style and came home in a new world record time to boot! Gunnell's face as she crossed the line and realised she had beaten the world record remains of the most iconic Olympic moments in British history, and is often cited by today's Olympic hopefuls as a major influence on them taking up athletics in the first place.
Click Here to listen to the full audio interview with Sally Gunnell.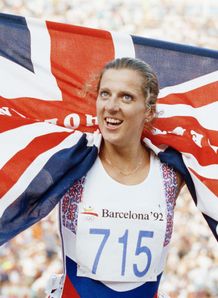 Sally Gunnell scores in Barcelona
Dame Mary Peters
Peters is another famous face in the world of British Olympians after she captured gold at the 1972 Olympics in Munich, beating the local favourite to claim the pentathlon title whilst also setting a new world record score in the process. Peters also claimed Commonwealth Games gold for Northern Ireland and it was her multi-event success which the likes of Denies Lewis and Jess Ennis aspired to repeat in the heptathlon.
Click Here to listen to the full audio interview with Dame Mary Peters.
Allan Wells
Scottish sprinter Alan Wells claimed the coveted 100m title at the Moscow Olympics of 1980 and only just missed out on doing the sprint double as he was just edged out by Pietro Mennea. Wells became the oldest Olympic 100m champion at the time, and after doubts over his achievement caused by the USA boycott, he responded by beating the likes of Carl Lewis over the next couple of years.
Click Here to listen to the full audio interview with Alan Wells.
Danny Nightingale
Nightingale was a team gold winner in the modern pentathlon, one of the more unusual events in the Olympic Games which consists of running, swimming, shooting, fencing and show jumping. Nightingale picked up his Olympic gold in the team event of the 1976 Olympics in Montreal.
Click Here to listen to the full audio interview with Danny Nightingale.