Chambers Factfile
We look back at the eventful career of Dwain Chambers on his path back to the Olympics
Last Updated: 03/07/12 5:34pm
1978: Born Islington, London, April 5.
1998: Takes 100 metres silver in European Championships.
1999: Runs 9.99 seconds to become the second European sprinter to break the 10-second barrier after Linford Christie. Runs 9.97secs to claim bronze at the World Championships in Seville.
2000: Fourth in Olympics final in Sydney.
2002: Pulls up with cramps in the Commonwealth Games 100m final, later attributed to lack of fluids.
Wins gold at the European Championships and brings the British team home for gold in the 4x100m relay.
2003: August 25 - Finishes fourth in the World Championships 100m final in Paris in a time of 10.08s.
October 22 - Revealed to have tested positive for newly-discovered 'designer steroid' tetrahydrogestrinone (THG). Denies knowingly taking the drug.
November 7 - IAAF suspend Chambers pending disciplinary hearing after B sample tests positive.
2004: February 22 - Handed a two-year worldwide ban due to expire on November 7, 2005 and a BOA lifetime suspension from the Olympics.
2005: December 10 - Admits using THG for 18 months before failing his drug test, including when he became double European champion in 2002.
2006: June 10 - Cleared by UK Athletics to return.
June 11 - Returns to action at Gateshead, finishing third in 10.07. His time is the fastest by a European in 2006.
June 26 - All performances since January 1, 2002 annulled, including individual and relay gold at the European Championships in Munich in 2002 and the European record of 9.87 he shared with Christie, after his admission to using THG prior to his failed drugs test.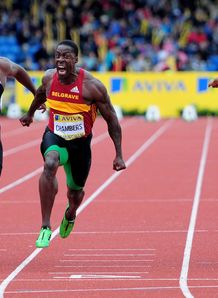 Chambers explodes at the UK Trials this year
August - Selected to represent Great Britain at the European Championships in Gothenburg.
Finishes seventh in the individual event before joining Mark Lewis-Francis, Darren Campbell and Marlon Devonish in the 4x100m sprint relay squad. The quartet win gold but their achievement is overshadowed by Campbell's refusal to celebrate on a lap of honour with his team-mates, saying it would be "hypocritical".
2007: March - Secures a contract with NFL Europa side Hamburg Sea Devils.
2008: January - UK Athletics chief executive officer Niels de Vos claims Chambers will be barred from making a comeback because he has not undergone drug testing since November 2006 when he left the sport. The IAAF claim he is eligible to run because he never retired from athletics.
February - Qualifies for the World Indoor trials in Sheffield by winning the 60m at the Birmingham Games in 6.60.
Allowed to compete in Sheffield after UKA grudgingly accept his entry after the athlete's solicitors prepared to launch a High Court injunction against them.
Wins the 60m in Sheffield to book himself a spot at the following month's World Indoor Championships in Valencia.
March - Wins a silver medal in the World Indoor Championships.
May 6 - After a month-long trial with Super League side Castleford, the club reveal he will not be offered a contract.
June 4 - Wins his first 100m race since August 2006 in Greece.
June 30 - Two hundred past and present athletes, including Dame Kelly Holmes and Sir Steven Redgrave, sign a petition against Chambers being picked for the Beijing Games after his lawyers confirm plans for a High Court appeal against the BOA's lifetime Olympics ban.
July 3 - Court proceedings are launched by Chambers' legal team.
July 12 - Wins the 100m at the Olympic trials.
July 18 - Chambers' attempt to gain a temporary injunction against the BOA ban is rejected at the High Court to end hopes of competing in Beijing.
2009: March - Wins gold over 60m at the European Indoor Championships.
Causes further controversy after alleging in his autobiography drug use is widespread within athletics.
August 16 - Finishes sixth in the 100m final at the World Championships in Berlin.
2010: March 13 - Wins world indoor gold over 60m in Doha.
June - Clocks 9.99 to win the 100m at the European Team Championships in Bergen, his first sub-10 clocking since 2001.
July 28 - Finishes a disappointing fifth in the 100m final at the European Championships in Barcelona.
2011: March 6 - Wins silver at the European Indoor Championships in Paris.
August 28 - Disqualified in the semi-finals of the 100m at the World Championships in Daegu for false-starting.
2012: March 10 - Wins bronze at the World Indoor Championships in Istanbul.
April 30 - Cleared to be selected for London 2012 after the Court of Arbitration for Sport declare the BOA's lifetime ban is not in compliance with the World Anti-Doping Agency code.
June 23 - Wins Olympic trials in 10.25, but misses out on the 'A' standard required to guarantee his place at the Games.
July 3 - Named in Great Britain athletics squad for Olympics.