Back on track
Paralympic hopeful Neil Fachie talks to Sky Sports about his quest for cycling gold at London 2012.
By Alex Williams. Last Updated: July 3, 2012 1:22pm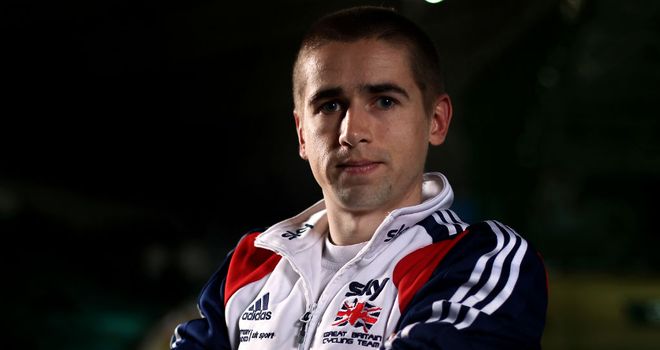 Neil Fachie: Expects to battle fellow Brit Anthony Kappes for gold in the sprint and kilo
To say Neil Fachie made a strong start to his para-cycling career would be one of the bigger sporting understatements you could make.
The former sprinter's transformation from the athletics track to the cycling track was quick and immediate as he broke the world record in the B&Vi one-kilometre time-trial at 2009 World Championships in Manchester.
Fachie, who competes in the visually impaired category which involves cyclists being guided by pilots on a tandem bike, took world titles in the both sprint and kilo that year, an achievement he repeated in 2011.
But the Scotsman will head into London 2012 on the back of a disappointing performance at this year's World Championships in Los Angeles, where it was fellow Brit and Olympic champion Anthony Kappes' turn to take double gold with Fachie's old pilot Craig MacLean.
Fachie admits his meteoric rise to the top of the sport led to him easing up a bit, but the 28-year-old insists he is training as hard as possible ahead of this summer's Paralympics.
"I know Anthony (Kappes) is working as hard but I don't think anyone is working harder."
Neil Fachie Quotes of the week
"2009 was when I really started and at the end of that year I won the World Champs, got two golds and broke two world records," he told Sky Sports.
"I think I did take my foot off the gas for the next few months, thinking, 'I don't even have to try too hard and I'm up there'.
Hard work
"But I quickly realised that me coming on the scene made other people work harder and then I was getting beaten again. I've upped my game to where I very much doubt that there is anyone out there working harder than I am.
"I know Anthony is working as hard but I don't think anyone is working harder. I thinking getting beaten at the World Champs this year wasn't necessarily a bad thing to be honest because it's given me the inspiration to hopefully go and win this time."
Fachie achieved his initial success alongside Barney Storey before teaming up with MacLean to win double gold in 2011.
The British selectors have now put him back with Storey for the Olympic year, but Fachie does not believe the chopping and changing was the reason behind his struggles in Los Angeles, where he came second in the kilo and only fourth in the sprint.
He added: "We have been switching back and forth with pilots over the past couple of years, taking turns and just waiting for the selectors to decide who would be the best pairing.
"Myself and Barney have ridden before and we've ridden well before so it wasn't a real problem to be honest. I don't think that's why we didn't go so well in the Worlds, there were some (other) issues there.
Neil Fachie was speaking at the Gatorade Secret Bike event, part of the Virgin Active London Triathlon Secret Series of training events. For great bike and other triathlon training tips visit www.youtube.com/londontri. There are also still places for the team relay at this years event, to get your place go to www.thelondontriathlon.com.
"Barney got a bit sick when we were out there, unfortunately, and that really hit us hard. But training since then with Barney has been phenomenal and we're really excited going forward now. It's looking really promising, so it should all come together I think."
Best of British
Britain's supremacy in track cycling extends to their para-athletes as well, and Fachie is confident that a British tandem will take the Olympic spoils in the sprint and kilo.
He said: "The rest of the world are certainly catching up, particularly in the sprint event, but Anthony is an incredible powerful athlete, we are going to be stupidly close again.
"Every World Championships we go to it's less than a tenth of a second, usually, between us. I'm pushing him, he's pushing me and that's the reason we're staying ahead of the rest of the world I think."
Having just missed out on reaching the final in both the 100m and 200m in Beijing, Fachie admits that going for gold in a new sport will be a completely new challenge in London.
"It's going to be very different. When I was in Beijing I said to myself, 'in four years' time in London, there is no way I can be sitting at home watching it on TV'," The Aberdeen rider concluded.
"My goal has been to get there first and foremost, but last time I went into the Games just thinking I was really lucky to be there, whereas as this time I'm going there to win."