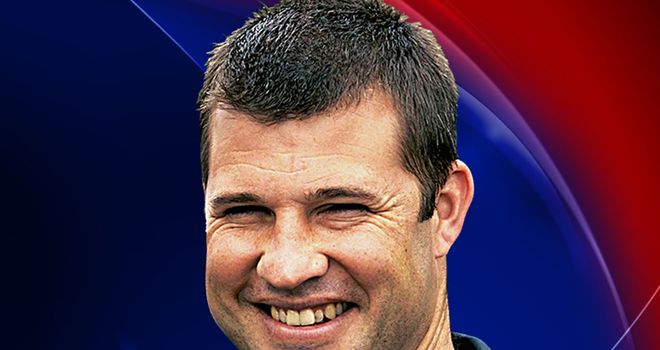 Barry: would happily see Squash added to future Olympic Games
Ahead of London 2012 we asked a range of personalities to let us know what the Olympics means to them. Sky Sports tennis expert Barry Cowan - who represented Britain at the 2000 Olympics - explains why he thinks squash should be in the Games...
What are your favourite Olympics memories?
Like most people I've got several! Daley Thompson winning gold in 1984 is right up there, as is the men's hockey team clinching gold in Seoul four years later. Usain Bolt's stunning 9.69 seconds for the 100m in 2008 will also live long in the memory, alongside Sir Steve Redgrave winning his fifth gold medal in as many Games in 2000.
So who would you class as the greatest Olympian of all time?
Sir Steve Redgrave, for his longevity and the legacy he's created. Longevity defines the very best sportsmen and women from the rest; it shows that they can perform over a long period of time and he has done so at Olympic level in a variety of boats, from the coxed and coxless four to the coxed and coxless pair. Sir Steve started a rowing legacy for Britain, something that is now well underway in cycling too.
Will you get to see much of the London 2012 action?
I will be going to the tennis for one day and the archery at Lords. Unfortunately I wasn't successful in the ballot for tickets to attend the blue riband events so I will be glued to the TV.
Which events are you most looking forward to?
I've been following the cycling for several years now because I find it absolutely fascinating. Dave Brailsford has left no stone unturned in putting together a fantastic team in a sport where 0.1 second can make all the difference. It's the same in swimming and athletics, where glory can hinge on the smallest of details. Unlike sports like football, where selection is subjective, the athletes representing Team GB in these sports are picked on the basis of what they've achieved.
How do you think Team GB will fare?
I believe we will eclipse Beijing and win more than 19 golds. I'm really looking forward to seeing if we can fulfill the potential and do well in the swimming. I've picked the cycling as a team instead of an individual to do well. I really do admire how organised and professional they are. They will achieve their potential and win plenty of gold medals.
Do you think the legacy of London 2012 will be of benefit to your sport - and to sport in general?
The legacy will be fantastic for East London. I really hope that sport will be really encouraged in schools beyond London. Sport has given me so much fun and experiences. Since tennis was introduced in 1988 it has benefited the sport massively and it's one of the reasons why so many countries have been very successful in tennis in the past 20 years. Because it was introduced countries have invested in the sport.
What sport would you like to see added to the Olympics?
Squash gets my nomination as it's one of those sports that simply doesn't get the attention it should. Relatively speaking, it's a poorly paid sport and if it was to be part of the Olympics it would be the pinnacle of the sport; that for me is what the Olympics is all about.
If you were to enter the Olympics in a different sport, which event would you choose and why...?
Cycling. I completed a ride from Wimbledon to Roland Garros last year and absolutely loved it. There's a reason why running and cycling are our biggest participation sports - it's because you can see your improvement. One of the hardest things about playing tennis is that you enjoy success on the court but not know if you are improving or not. You are judged by results, which doesn't always tell the whole story because you may have improved but your peers have improved even more.