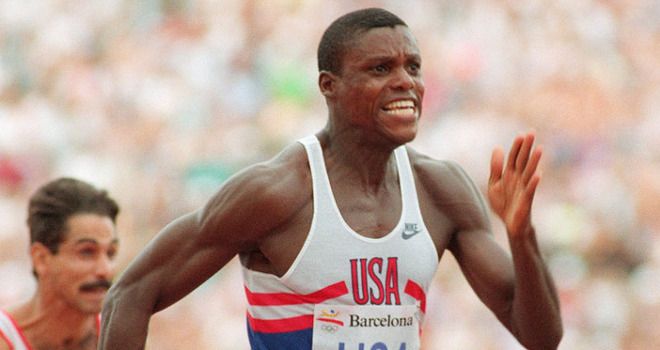 Carl Lewis: Olympic legend
Ahead of London 2012 we asked a range of personalities to let us know what the Olympics means to them. Who better to ask than athlete of the century Carl Lewis...
What are your favourite Olympics memories?
I think my first Olympics I remember is 72, I remember the American sprinters missed 100m and Valery Borzov won that and the 200m and of course I remember all the drama from the 72 Olympics clearly. Then in 76 my fondest memory was Nadia Comaneci, I remember because we are the same age, I mean it's funny now because I know her very well now, but at the time I thought she's 14 like me and she's winning that gold medal so that really got me thinking about it. Then of course I made the 1980 team and the rest is like you say history.
Who would you class as the greatest Olympian of all time?
History always defines that. But the thing is when you look back it's easy to see who was great. For me to be named IOC athlete of the century just makes no sense, I mean how can you look at all these athletes from all these sports, all these events, all these countries and say you were the best of all of them, it just defies logic to me so how can I explain that!
I have my own heroes like Jesse Owens of course and Bob Beamon's tremendous jump and people like that but really I find it hard to answer that question with just one athlete.
It's so hard to quantify it because you can only beat the people you run against at the time.
You think Jesse Owens would be the best if he was running right now? Times change, situations change and you're running against the people you run against and everybody is placed on a level playing field.
How much of London 2012 will you see, and what events are you looking forward to?
I'll be here, I rarely go to the track though, I go to other sports. I always take in new sports every Games, so I really want to go fencing this time, and one or two other sports. I'm looking forward to the badminton and rowing as well.
I always take in new sports, and not only take in and just watch but actually sit down and study them, know what their culture is, who is the champion what are their stories, who's dating who - I want to know all that stuff!
To me it makes it more interesting, and now I've gotten to know so many different sports it's fascinating. They all have their own different culture so it's nice as we track athletes think it's all about us but it's not it's about all the different sports at the Olympics.
How do you think Team GB will get on?
I think they'll do great, the home team always does well at the Olympics and Great Britain did so well in Beijing I think they'll have a fantastic Games. There's talk of pressure but I've been in two homes Games and we just loved it - I didn't know anyone in our team who thought it was harder performing in front of a home crowd and I still think that's true today.
What sports would you like to see included in the Olympics?
It's not really for me to say, but I just think that we should have as many sports in as we can, as the Olympics is really a celebration of sports in general, regardless of what they are, so whatever sport is in there is fine with me.
If you were to enter the Olympics again, which event would you choose and why...
I really like the look of badminton, it seems so fast and tactical that I wouldn't have minded having a go at that.