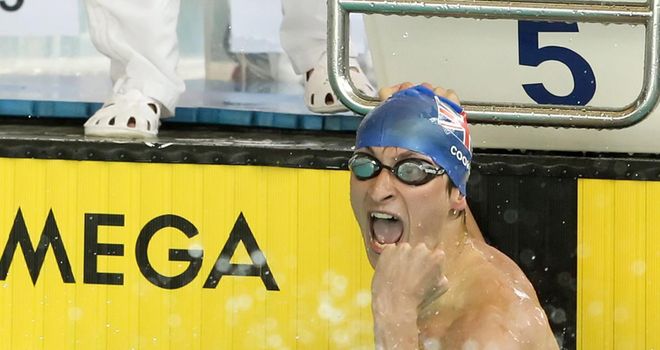 Jamie Cooke: The pentathlete is hoping for a spot on Team GB this summer
Jamie Cooke, the world junior champion, is hoping to fence his way back into pole position for a spot in Team GB's Olympic modern pentathlon team at the World Championships in Rome this weekend.
The 21-year-old had a stunning 2011, becoming the only British man so far to achieve the Olympic qualifying standard coming fourth at the European Championships in Kent, going on to finish the year with his junior title in Argentina.
"When you're losing it's like a vicious circle and you retreat into yourself. "
Jamie Cooke Quotes of the week
That put Cooke firmly on course for one of the two places available to British men at the Games, but 2012 has not begun in the way he would have wanted.
The Cheltenham athlete came to the sport late having previously been purely a swimmer, and it has been a steep learning curve trying to master shooting, show jumping, running and, in particular, fencing.
Retreat
He said: "I'm very inexperienced so I'm very naive on the piste. For the first year you're new so no one knows what you're going to do, but by the second year they've worked you out.
"When you're losing it's like a vicious circle and you retreat into yourself.
"Confidence is the main thing. But me and my coach have been working a lot on it and my confidence is coming back."
Cooke, the fastest swimmer in the sport's history, has been working hard in training and hopes that will pay off in Rome, where his campaign will begin on Friday in the semi-finals.
He added: "I had a fantastic year last year, everything went well, and this year everything's slightly harder, but I've learned a lot from the bad experiences.
"There's been some really good things that have happened but there's just been some major disasters. Hopefully I can turn it round and have a good World Championships.
"In some ways qualifying last year put the pressure on to keep performing. I might have been affected by that but I wouldn't change it."
Competition
Nick Woodbridge and Sam Weale are Cooke's rivals for the Olympic berths, both of whom competed in Beijing in 2008.
Woodbridge is ranked 10th in the world and has maintained his status as British number one this season, while Weale aims to make up for lost time after struggling with injury over the past couple of years.
The 30-year-old from Yeovil said: "It hasn't quite gone my way yet so hopefully I can put it all together for the World Championships. I feel like I've got a podium somewhere within me, and I do need to get a top five I think.
"I'm probably still in third (behind Woodbridge and Cooke) but I'm quite relaxed about it. I know my ability across the five events and I can't affect what the other two do. I'm going to enjoy it."
The British quartet of Mhairi Spence, Heather Fell, Freyja Prentice and Samantha Murray compete in the women's semi-finals on Thursday.