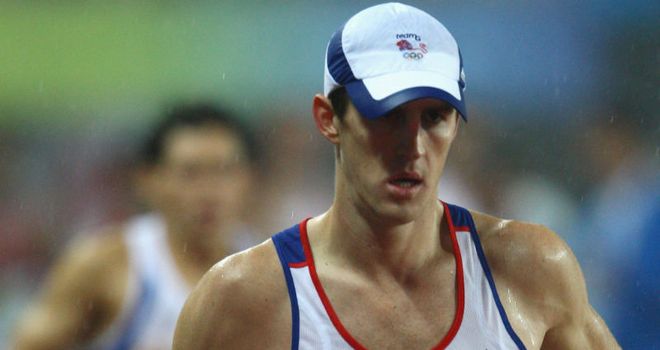 Nick Woodbridge: Looking to secure his place
Nick Woodbridge claims the fight for modern pentathlon places at the London Olympics will go right down to the wire.
With a maximum of two men and two women eligible to represent each country at the Games, the competition for those spots is guaranteed to be fierce.
Britain's women's team is traditionally very strong, with four medals won from the last three Olympics, but there are big hopes for the men this time around with Woodbridge, Jamie Cooke and Sam Weale all having proved themselves on the world stage.
World junior champion Cooke, 20, is the only one of the trio to have achieved the qualifying standard thus far, with Woodbridge and Weale now targeting a top-three spot at the World Championships in Rome in May to avoid having to rely on the rankings list.
Woodbridge, from Shropshire, had hoped to achieve the 2012 standard last year after winning bronze at the World Cup Final Olympic test event but a lack of consistency proved his Achilles heel.
He said: "Ranking points is a back-up but the World Championships is closer so that's what I'll be focusing on.
Consistency
"On my day I think I could be on the podium, that's why I want to bring consistency into it, and I think I have the experience now to do it."
The pressure of trying to qualify for the Games is not new to the 25-year-old, who claimed the very last spot at Beijing four years ago.
He said: "I definitely think going through that will help but I've taken a big step since then and I don't think it will come anywhere near that.
"I think I was ranked 36th in the world at that point and now I'm 11th, so I'm way further up, and as long as I can maintain that then I'm in a good position.
"I don't think it will be a case of having two guys there, it'll be which two guys. That's what it is now, it's a fight-off."
The trio will all be in action at the first two World Cups of the season in the USA and Brazil in March, where the chance to claim valuable ranking points will begin in earnest.
Woodbridge knows it is now or never, and he added: "Everyone's been counting down 1,000 days, 500 days and asking me what that means and it hasn't really meant a lot until this year, and now you think, 'Right, we're in 2012, this is it'.
"I am looking forward to it but it's an uphill fight until the qualification's over."