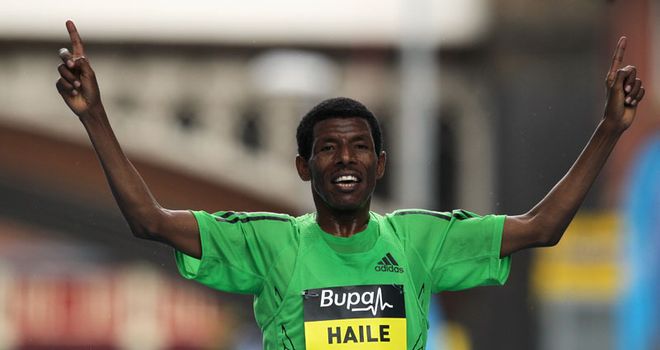 Haile Gebrselassie
With two Olympic gold medals in the 10,000m, Haile Gebrselassie is renowned as one of the greatest long-distance runners of all time.
Born in the province of Arsi in Central Ethiopia, Gebrselassie ran throughout his youth and at only 16, he began to show signs of being a promising athlete.
With no formal training, the runner entered the Addis Ababa marathon, finishing in 2:42.
It was in 1992 that he became known on the international scene, as he won the 5,000m and 10,000m at the Junior World Championships in Seoul.
At the Stuttgart World Championships in 1993, the emerging running sensation won the 10,000m and grabbed second in the 5,000m.
His first world record, 12:56.96, came in the 5,000m in 1994, in Hengelo, Holland.
In 1995, he went on to break the world record in 10k, with a time of 26:43.53 in a race also in Hengelo, Holland.
The following years were when the medals really started to flow, with his first Olympic gold medal at the 1996 Atlanta Games. He won the 10,000m in an Olympic record time of 27:07.34.
His second Olympic achievement came at the next Games in Sydney in 2000.
He secured his position on top of the podium once more with a stunning performance in the 10,000m with a time of 27:18.20.
It was at these Games that he became the third man in history to successfully defend an Olympic 10,000m title, after Lasse Virén and Emil Zátopek.
However, his success came to a halt when he missed out on a medal in the 10,000m event at the Athens Games in 2004. It was from then on that the famous athlete quit the track and switched to the marathon.
He went undefeated in all of his road races in 2005, before going on to beat the world half marathon record in 2006.
Yet it seemed the Olympic Games were a distant memory for Gebrselassie as he also did not compete in Beijing in 2008, due to the high air pollution levels.
It also appears that the Ethiopian has not managed to gain a berth on his country's Olympic marathon team for the London Olympics this year.
Yet, somehow, his past achievements both on and off the track, have already proven he is the one to beat, even if he is not running in the Olympic stadium this summer.