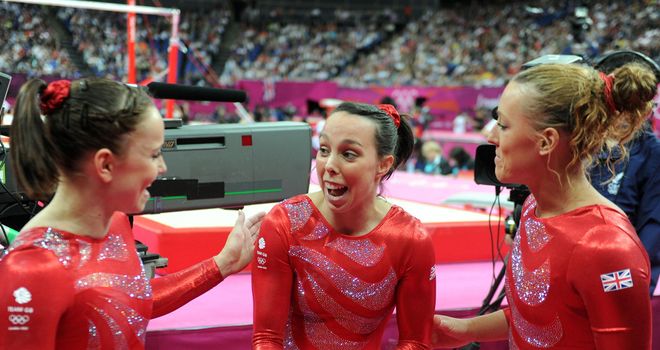 Beth Tweddle: Delighted after her display
Beth Tweddle produced a stunning routine on the uneven bars as Great Britain's women gymnasts powered into the Olympic team final at North Greenwich Arena.
The three-time world champion took a huge step towards her first Olympic medal as she booked her place in the final with a world-class performance, brimming with style and complexity, that scored 16.133 - putting her in top qualifying spot.
It laid down a huge marker to her rivals, defending Olympic champion He Kexin and reigning world bars champion Viktoria Komova, who qualified in second and third.
Britain also replicated the efforts of the men's team on Saturday as Imogen Cairns, Hannah Whelan, Jennifer Pinches and Rebecca Tunney combined with Tweddle to secure their place in Tuesday's team final in fifth place - matching their efforts at last year's world championships in Tokyo - with a score of 170.656.
They will do battle with the United States, Russia, China, Romania, Japan, Italy and Canada for medal places on Tuesday.
Tweddle was visibly relieved after her last shot an Olympic medal remained on course.
Nerves
"I was unbelievably nervous," Tweddle said after qualification. "I've felt sick for the last three weeks.
"My coach said to me: 'Just do what you do in training' and I just thought to myself: 'This is the one moment, and I just have to live for it.'
"I can remember every moment of that routine and normally I can't.
"It was weird because before I kept thinking in my mind: 'It doesn't matter, it doesn't matter' but I knew deep down it did matter.
"The pressure is off now. I just wanted to make that final. You've got to have luck on the day.
"If I go there and do the best routine that I can and it comes away with a medal, so be it. If it doesn't I've got so much to look back on in my career."
Tweddle's routine had a 7.0 difficulty score and a huge 9.133 execution score in what was a near-flawless performance.
Her final tilt at an Olympic medal looked like a dream that had slipped away three months ago after she underwent keyhole surgery on her left knee.
However, the 27-year-old never gave up, and after months of rehabilitation and continuing to sleep with an ice machine strapped to her leg to minimise the threat of further problems, she will now compete in the final on August 6 before retiring from the sport.
"Twelve weeks ago my world came crashing down around me and I thought that was it," Tweddle said.
"I didn't even think I would be able to walk into the arena.
"Now that I'm here, I'm relieved and pleased to be here, but I want more.
"I wouldn't have walked out of that arena happy if I hadn't made the bar final."
Final destination
The women's team narrowly missed out on the team final in Beijing after they finished ninth, and Whelan, who competed at those Games as a 16-year-old, is thrilled to have righted the wrongs of four years ago.
"It's just amazing," she said. "Four years ago when I was a baby we just missed out.
"I was so disappointed so our main aim was to come out, obviously enjoy the competition, but we really wanted that top eight spot.
"I couldn't be happier. We had a shaky start on beam but we picked ourselves up and ended the competition well."
In addition to the team final and Tweddle's final competition outing on the bars, 15-year-old Tunney and City of Liverpool team-mate Whelan also qualified for the individual all-around final.
"It was amazing. it really was," Tunney said. "We went out there thinking whatever happens, happens.
"It's my first Olympics and I just wanted to enjoy it and I really did.
"It was intense, very intense, but the crowd was very supportive. They really helped us."