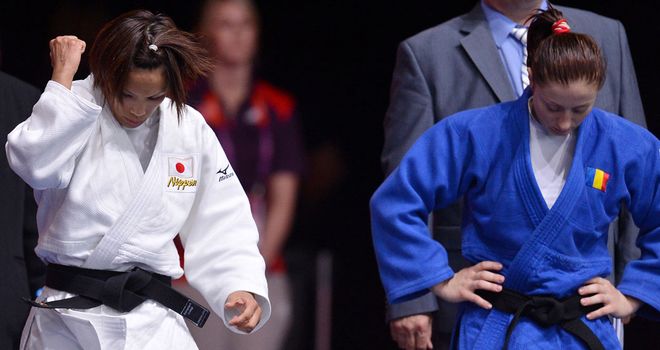 Matsumoto: Overcame Caprioriu in the final
Japan's Kaori Matsumoto and Mansur Isaev of Russia won Monday's two Olympic judo gold medals as Great Britain suffered more disappointment at ExCeL.
Matsumoto defeat Romanian Corina Caprioriu after the latter was disqualified during the Golden Score period in the women's under-57kg final.
Caprioriu was penalised for trying to hold Matsumoto's leg to flip over the Japanese.
Defeated semi-finalist Marti Malloy won the bronze medal after overcoming defending Olympic champion Giulia Quintavalle from Italy.
The American sealed the fate of the match within a short span of time by pinning Quintavalle on her back to score an ippon. Malloy had tears in her eyes as the crowd cheered her on after the victory.
The second bronze medal was bagged by Automne Pavia from France after she defeated Hedvig Karakas by a swift leg sweep which resulted in the Hungarian's fall.
The French flags were up in the spectator stands as Pavia climbed down to hug her coach before greeting French President Francois Hollande who was ecstatic at her win.
Early exit
Britain's judo hope Sarah Clark lost her openng fight against Pavia on a 'golden score'.
Level at the end of regular play, Pavia managed a wazari throw to end Clark's hopes.
Clark at first felt she managed to turn out of the throw, and fall on her front. However, on review she accepted the defeat.
"It was definitely a score," said the three-time Olympian. "Initially you think you have gotten off the technique, but that is why the video referees are there.
"I was positive with my performance until that point, unfortunately a slight error at the end cost me the match.
"The crowd helped massively and I used it to my advantage, but unfortunately it was not to be.''
Israel joy
In the men's under-73kg division, Isaev clinched gold after defeating Japan's Riki Nakaya.
Mongolian Nyam-Ochir Sainjargal won the bronze after making a comeback through the repechage, defeating Dex Elmont from the Netherlands.
Unable to make it to the finals, Elmont was lacking in aggression, giving an opening to Sainjargal to take charge of the bout.
The second bronze went to Frenchman Ugo Legrand who defeated current world champion Wang Ki-Chun in an unexpected victory. He was congratulated with a handshake by Mr Hollande.
Britain's representative in the event Daniel Williams had been handed a bye to the second round but was always likely to be up against it given he was fighting Rasul Boqiev, of Tajikistan, a man who won bronze at the 2008 Games.
There was little to choose between the fighters heading into the last 90 seconds, when Boqiev collected a shido passivity penalty.
However, his experience told when he caught the Briton with a sweep to record an ippon score to end the contest with 21 seconds left.
Williams said he would fight on towards Rio 2016, while Clark said she had no intention of retiring at this stage.