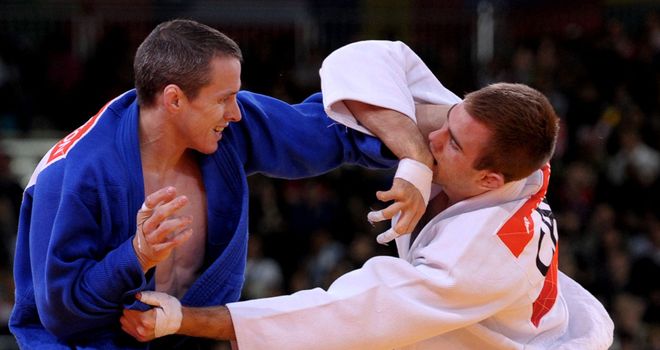 Euan Burton: First round exit
Euan Burton offered no excuses after seeing his hopes of Olympic judo gold shattered with defeat to Canadian Antoine Valois-Fortier in the men's under-81kgs at ExCeL.
Burton, 33, had once been ranked as high as fourth in his weight division, but last year struggled to make an impact at either the European or World Championships.
Valois-Fortier was not the expected opposition for the Scotsman, after knocking out Elnur Mammadli of Azerbaijan, the reigning European champion who won Olympic gold at under-73kg in Beijing.
However, the Canadian again produced the goods, this time with an ippon throw to end Burton's Olympic dream before it had the chance to get going.
"I lost in the biggest tournament in the world, the biggest Britain is ever going to see in my lifetime, I don't really know what else to say, but that is judo, people can get caught," said Burton, who also failed to reach the medal fights at the 2008 Olympics where he was mentored by Sir Clive Woodward.
Quick start
"I have caught people quickly in the past, and people have caught me quickly before.
"The fight was pretty even up to that point, but I felt I was going to be able to dominate the fight.
"I did not feel any particular threat until then, but it was a beautiful bit of judo."
Burton felt he was in top condition to deliver.
"I felt fantastic, my preparation probably could not have gone any better, that is the most disappointing thing," he said.
"If I had poor preparation, things had not gone well, then you can use all of the excuses, but there are no excuses.
"I came in feeling one million percent that I could win the tournament and that I was in the best shape of my life.
"If you are in the best shape of your life and you go out in the first round, then maybe that is telling you something."
The golden glory went to Kim Jae-bum, the South Korean going one better than his silver in Beijing four years ago.
Germany's Ole Bischof was the runner-up on this occasion.