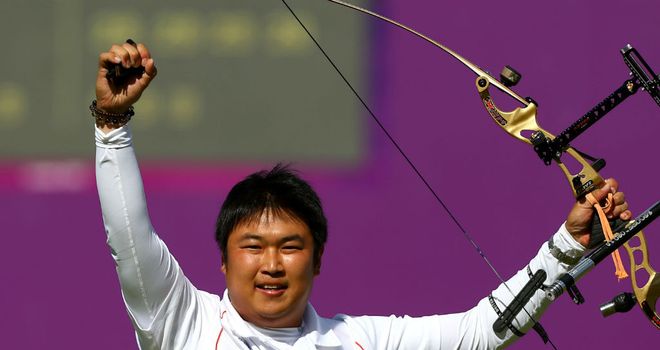 Oh Jin-hyek: Finally secured an individual men's Olympic title for South Korea
Oh Jin-hyek finally ended South Korea's wait for a men's individual Olympic archery title as he claimed a dominant 7-1 win over Japan's Takaharu Furukawa in the final at Lord's.
Despite being the nation to beat in the sport for over 20 years, the men's Olympic gold has so far eluded the South Koreans
And their prospects of glory at London 2012 took a blow whe top seed and hot favourite Im Dong-hyun was sent crashing out in the last 16 by Holland's Rick van der Ven.
Second seed Kim Bubmin, also of South Korea, then bowed out before the medal matches as he was defeated 6-5 by China's Dai Xiaoxiang.
But third seed Oh stepped up nervelessly to ensure a third gold from a possible four for his country at London 2012.
"Compared to other countries, there are many Koreans with a very strong will and perseverance."
Oh Jin-hyek Quotes of the week
"I think maybe I was not as good in my 20s as I am now, but having turned 30 I am better and I want continue in this sport a long time," Oh said.
"I have been in the national qualifiers since Sydney so I always hoped to participate in an Olympic Games, let alone get a medal.
"My first dream came true by being here and on top of that I have a gold medal so I am a very happy man."
Will
Asked why his country had once again dominated the archery medal haul, he added: "Compared to other countries, there are many Koreans with a very strong will and perseverance.
"When they have an idea in their head, they just have to do it. I am one of those people."
Dai took the bronze, his country's first individual men's medal, after seeing off Van der Ven on a shoot-off.
Van der Ven produced the upset of the day when he claimed the scalp of Im but was edged off the podium when Dai settled their match with a 10 in the one-arrow decider.
Oh was the lowest seed of the three Korean archers as Im and Kim both broke the previous world record in the ranking round.
But it was he who showed the necessary calm in the head-to-head phase, beating Axel Muller and Luis Alvarez earlier in the week before easing past Rafal Dobrowolski in nine arrows on Friday morning
He made light work of defending champion Viktor Ruban to secure a 7-1 quarter-final win but was pushed all the way in his semi-final against Dai.
The pair were tied at 5-5 after five sets but Oh booked his final berth with a nine on shootout.
Furukawa, the world number 32, made an impressive charge through the draw to earn his silver medal, claiming 6-2 wins against both Baard Nesteng and Khairul Anuar Mohamad before pipping Van der Ven 6-5 with a maximum 10 on shootout.