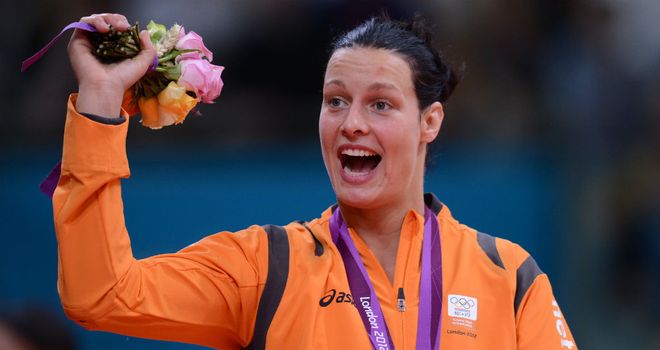 Edith Bosch: Was angered by actions of bottle-thrower
Dutch former world judo champion Edith Bosch says an emotional reaction caused her to hit a man after he threw a bottle on to the track at the start of the men's 100 metres final.
Bosch, who won a bronze medal in the women's 70kg category last Wednesday, was close by in the Olympic Stadium when the incident unfolded as the finalists were in the blocks.
The 32-year-old said she acted out of disappointment and disbelief after seeing a green plastic drink bottle being thrown from the stands.
"I had seen the man walking around earlier and said to people around me that he was a peculiar bloke" she told Dutch television station NOS TV.
"Then he threw that bottle and in my emotion I hit him on the back with the flat of my hand.
"Then he was scooped up by the security. However, he did make me miss the final, and I am very sad about that.
Disbelief
"I just cannot understand how someone can do something like that."
Bosch's involvement was brought to public attention on Twitter when she wrote: "A drunken spectator threw a bottle onto the track! I HAVE BEATEN HIM... unbelievable."
Sebastian Coe said it was "poetic justice" that the man who threw the bottle happened to be sitting next to a judoka.
He said: "I'm not suggesting vigilantism but it was actually poetic justic but they happened to be sitting next to a judo player. I think the expression is ippon."
He added: "Throwing a bottle onto the field of play is unacceptable, it's not just unacceptable at an Olympic Games but at any sporting event and anybody who does that will be removed.
"There is zero tolerance for anything like that."
A man has been charged with a public order offence relating to the incident.