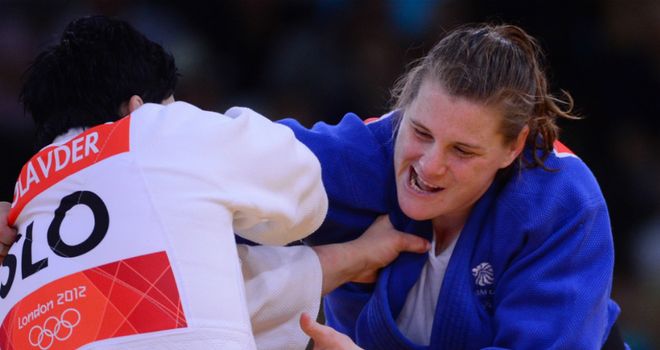 Karina Bryant: Claimed a bronze judo medal after beating Iryna Kindzerska of Ukraine.
Veteran heavyweight Karina Bryant lifted herself to claim a bronze judo medal after beating Iryna Kindzerska of Ukraine the women's over-78kgs at ExCeL.
Bryant lost to Japan's Mika Sugimoto in the semi-finals of the event, but regrouped and got the better of Kindzerska to secure Team GB's second judo medal, following Gemma Gibbon's silver on Thursday.
North Arena 2 was again in full voice as they cheered on Bryant, the 32-year-old four time European Champion, although she had to settle for bronze having come up short against Sugimoto.
There was little to choose between the fighters heading into the final two minutes of normal time, but Bryant then received a passivity penalty and soon another for holding to put her 1-0 behind and was unable to could not find a scoring throw to level.
Cuba's Idalys Ortiz, bronze medallist in Beijing, claimed the gold after she was awarded a judges' flag decision over Sugimoto following a scoreless contest.
Defending Olympic champion Wen Tong of China was beaten in the semi-final by Ortiz but recovered to win bronze alongside Bryant, who was pleased to have finally delivered on the biggest of stages.
"Deep down in my heart I really wanted to go out there and do myself justice. I have had an amazing career, but this was the one medal I did not have," Bryant said.
"It is not the right colour, but it is gold to me, because I could not have done any more today.
"I fought a fantastic semi-final, but the Japanese girl is a great fighter.
"I was not disappointed, because I felt like I had given it everything."
Disappointment
There was disappointment for Royal Marine Chris Sherrington, who went out to Russia Alexander Mikhaylin, the current European Champion and three-time world gold medallist, to a sudden-death score.
Wigan-born Sherrington, 28, was determined to cause an upset.
"As a Royal Marine in the Royal Navy, it has to be a win for me to be totally happy, nearly is not good enough," he said.
"I fought well and he just got me in the end, but he is a two-time world judo champion, and it was not an ippon which beat me, so maybe next time he will get what is coming."
There was plenty of support for the Briton.
"I was totally focused during the fight, but as I walked off, there was three Royal Marines screaming, 'yes!' and I was like 'all right lads, fancy seeing you here'," he said.
Sherrington is uncertain what the future holds for his career.
"I will have to speak to the Marines and see what they want to do with me. As you know, in the military you sign your life away at 17. I do as I am told and that is the way it is. If they tell me to go back, I go back," he said.
Favourite Teddy Riner won gold - much to the delight of the large French contingent, as a sea of Tricolors swept around North Arena 2.
Riner may only be 23, but he already has five world titles and claimed bronze on his Olympic debut in 2008.
The giant Frenchman beat Russia's Alexander Mikhaylin having earlier overcome Korean Kim Sung-Min.
Mikhaylin came through the other semi-final after beating world number two German Andreas Toelzer, who picked up a bronze along with third seed Rafeal Silva of Brazil.
Warm reception
One of Saudi Arabia's two female Olympic team members earlier fought in a tight headscarf after a compromise was reached with the International Olympic Committee.
Wodjan Ali Seraj Abdulrahim Shahrkhani, 20, got a warm reception when she took to the Tatami against Melissa Mojica of Puerto Rico.
However, after one minute and 22 seconds, her Olympics were over, as she was thrown for an ippon.
Shahrkhani said: "I was scared a lot, because of all the crowd around and lost, because this is the first time.
"I am, though, excited and proud to be representing my country, unfortunately I lost, but hopefully I will do better next time and achieve a medal.
"Hopefully all this is the beginning of a new era."