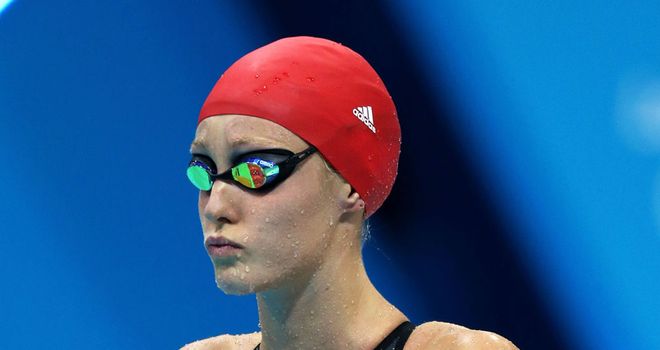 Fran Halsall: Wasn't happy with morning swim
Fran Halsall safely made it through to the semi-finals of the 100 metres freestyle but was far from happy with her performance.
The 22-year-old said recently she would take a gold in that event over anything else and today she was second in her heat and seventh overall as she qualified for the semi-finals in 54.02 seconds.
Eighth four years ago in Beijing has been followed by medals at world, European and Commonwealth level but Olympic gold is the dream.
However, she was unhappy with her performance today, saying: "I made the semi. That's all that matters. Other than that it felt s**t.
"Let's see what happens. Maybe I will swim faster.
"It will be 53 to make it so it won't be that much, but hopefully I will be able to make the final.
"The crowd were good for me. They really pull you along. It was really enjoyable to have them there.
"I would like to dominate this event and I will try my best to do so but I can't control what anyone else does so I am just looking to giving my performance and hopefully tomorrow as well."
Dutchwoman Ranomi Kromowidjojo has been in a class of her own this year, the owner of three of the top five swims in 2012, including a world lead of 52.75 as she became the only woman wearing textiles to have dipped under 53 seconds.
Adlington gamble pays off
The decision to leave Rebecca Adlington out of the women's 4x200m freestyle relay heats paid off as the quartet of Caitlin McClatchey, Becky Turner, Ellie Faulkner and Jo Jackson made it through to the final in seventh.
Where possible, British Swimming rest athletes in heats so they can prepare for their individual races and Adlington has the heats of the 800m freestyle tomorrow morning.
That strategy backfired in Beijing four years ago but this time the quartet's time of 7:54.31 proved enough as Jackson dug deep to hold off Japan and Spain in the final 50m of heat one.
Adlington is now expected to be caled up for the final.
Elsewhere, James Goddard (sixth fastest) and Joe Roebuck (15th) both qualified for the semi-finals of the 200m Individual Medley.
But GB pair Marco Loughran and Chris Walker-Hebborn missed out on the 200m backstroke semi-finals. They finished 18th and 22nd fastest respectively in the heats.
USA's Ryan Lochte was the second fastest man into the semi-finals behind his countryman Tyler Clary.