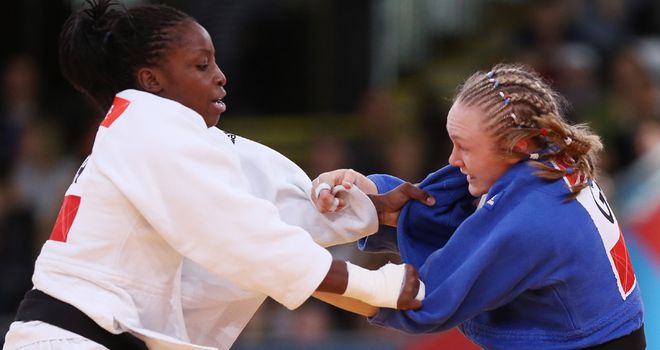 Gemma Howell (r) : Ruled to have made illegal grab
Gemma Howell was controversially disqualified from her opening-round clash in the women's under-63kg against reigning world and European champion Gevrise Emane of France.
Since switching to under-63kg earlier this year, Howell - from Wolverhampton, but now fighting out of the British Judo performance institute at Dartford - won four events in a row, including two World Cup titles.
Tackling Emane at the Olympic Games may have been a step up in class, but that did not stop the Briton taking on her opponent during the opening exchanges, cheered on by the partisan home crowd.
There were boos when Howell picked up a passivity penalty with two minutes left.
With less than 30 seconds to go before golden score, the fighters fell to the ground, with video referees ruling that Howell had illegally grabbed her opponent's leg, and that meant she was automatically disqualified.
Direct attacks to the legs have been outlawed under new rule changes introduced after the last Olympics.
On Monday, Romania's Corina Caprioriu was disqualified from the final of the women's under-52kg for a similar move, which handed gold to Kaori Matsumoto of Japan.
No complaints
Howell, though, had no complaints about the ruling, saying: "I think it was the right decision.
"I was down a penalty towards the end of the fight and knew she was ahead on attacks, so I had nothing to lose.
"I felt it was a situation which a few years ago would have been fine, but it is not allowed any more. I went for it and I shouldn't have."
Howell was disappointed not to have enjoyed a more succesful Olympic debut, having battled through injury to make the British squad.
"A few months ago I wasn't sure if I would get here, but I wanted to get here for the chance to achieve gold.
"Maybe when I go home and look at it again I can be positive, but right now I am completely gutted.
"I didn't come here to fight hard, I came here to win it, so I didn't do what I wanted to.
"It's what makes being an Olympic champion in judo so special - that you do only get that one chance every four years.
"Rio will be the next big thing for me now, but I will just have to wait for that."
Slovenia's Urska Zolnir went on to win the gold medal, beating China's Xu Lili in the final.
Meanwhile, there was further disappointment for Team GB fans at the Excel Arena as under-81kg medal hope Euan Burton crashed out to Canada's Antoine Valois-Fortier just 1 minute 40 seconds into his first contest of the Games.