Judo is a modern martial art with the core philosophy "maximum efficient use of mind and body", based on the traditional idea from jujutsu of using an opponent's strength against him.
The aim of the game is to throw or takedown your opponent to score one of three types of points. A judoka's arsenal is made up in simple terms of throwing techniques and grappling techniques.
Glossary:
Ippon: means "one point" and instantly wins the match. Awarded for (a) a throw that lands the opponent largely on their back in a controlled manner with speed and force; (b) for a mat hold of 25 seconds; or (c) for opponent submission
Waza-ari: or half-point. Awarded for a throw that does not quite have enough power or control to be considered ippon; or for a hold of 20 seconds. Two waza-ari equal ippon and therefore victory.
Yuko: lower grade of score used as a tie-breaker. One waza-ari beats any number of yuko.
Nage-waza: throwing techniques. A properly-deployed judo throw should protect the recipient from injury.
Katame-waza: grappling techniques.
Judoka: a judo practitioner
Judogi: the outfit worn by judoka, comprising jacket, trousers and belt.
Tatami: the mat on which judo bouts take place. This is at least 14mx14m, with a playing area of 10mx10m.
Kodokan: the first judo school opened by founder Kano Jigoro which has grown into the sport's global headquarters.
Randori: judo practice, similar to sparring in boxing.
A throw that lands the opponent largely on their back in a controlled manner with speed and force, a mat hold of 25 seconds or opponent submission score ippon, literally meaning "one point" and immediately end the match.
A throw that does not quite have enough power or control to be considered ippon, or for a hold of 20 seconds scores a waza-ari or half point. Two waza-ari score the full point required for victory.
The final, lower form of scoring is a yuko, used purely as a tie-breaker. One waza-ari beats any number of yuko.
Judo competition in the Olympic Games is divided into seven weight categories for both men and women.
Two bronze medals are awarded in each weight category with all judoka eliminated by an eventual semi-finalist going into a repechage. Two judoka emerge from this to face the losing semi-finalists to decide the bronze winners.
History
Judo - meaning 'gentle way' - is a modern martial art, invented in 1882 by Dr Kano Jigoro.
Kano took his inspiration from the basics of jujutsu but felt his idea of using an opponent's strength against him had wider philosophical implications and hence chose his name to suggest Judo was a road or path to follow.
He opened a school, Kodokan, to teach his methods and this has grown from a small part of a Buddhist temple in Kakamura to a vast nine-storey building in Tokyo that remains the sport's headquarters.
Judo made its first appearance in the Olympics as a demonstration in 1932 when Kano and pupils put on an exhibition.
It was over thirty years later that the sport made its first full appearance at the 1964 games. It returned in 1972 and has been present ever since.
Women's exhibition events were added in 1988 before women's judo earned full status in 1992.
Best of British
Neil Adams was the first British male ever to pick up a world title, and he was also the first to hold both the World and European titles at the same time. Gold came at the 1981 Worlds in Maastricht, one of four medals as he also won a silver and two bronzes. In his Olympic career, Adams twice won silver, in 1980 and 1984 but just failed to go one further and pinch gold. He is still without doubt Britain's best judoka though.
Karen Briggs was a dominant force in women's judo during the 1980s, winning four world titles between 1982-89, her first coming when she was just aged 18. Briggs won gold in the only Commonwealth Games which had judo on the schedule during her career. It was a similar story in the Olympics where she would have surely been a multiple medallist had it been included earlier. She suffered heartache when she did get her big chance in 1992 when a dislocated shoulder ended her decade of winning.
Ones to Watch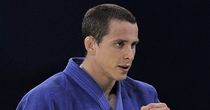 Euan Burton
Euan Burton: The Scottish half middleweight has won three European and two World Championship bronze medals and just needs to find that something extra to take that onto the Olympics stage. Seventh place in Beijing was a slight disappointment as Burton has been ranked as world number one in his weight class before.
Teddy Riner: The giant Frenchman measures in at 6ft8in and is proving a tough nut to crack in the heavyweight ranks despite having to settle for bronze in Beijing. That result was something of a surprise given that Riner was the world champion, and he has since gone on to defend his title three times whilst looking almost unbeatable.
Craig Fallon is a former world champion who will hope to finally follow through on his bags of promise in front of a home crowd in London. Fallon became the third British man to win a world judo title before going on to emulate Neil Adams in holding a world and European title at the same time. The man he beat for the world title, Ludwig Paischer, inflicted a surprise defeat that derailed his Beijing 2008 campaign though, so he will be hoping to show his true form in 2012.
Olympic Greats
Did Your Know
Great Britain have won seven silver medals and nine bronzes in judo but never an Olympic gold.
Tadahiro Nomura: The only judoka to win gold at three successive Olympics after taking the extra-lightweight (-60kg) title for Japan in the 1996, 2000 and 2004 Games. Born into a judo family - his uncle Toyokazu Nomura won an Olympic gold in 1972 - he started learning the sport at six and was a relative unknown when he claimed his first Olympic gold in Atlanta. But he swiftly became one of Japan's most famous judoka. After initially retiring following his third success in 2004, Nomura returned to competitive action in pursuit of a fourth gold medal in Beijing but failed to qualify for the Japan team.
David Douillet: One of only three men to win three Olympic judo medals, giant Frenchman Douillet won heavyweight bronze in Barcelona before storming to gold-medal glory in Atlanta and Sydney. With three world titles to go alongside his Olympic success. Douillet can lay claim to the title of judo's greatest ever heavyweight. Since retiring from the sport he has gone into politics and is now a member of the National Assembly and played a prominent role in the unsuccessful bid to bring the 2012 Games to Paris.