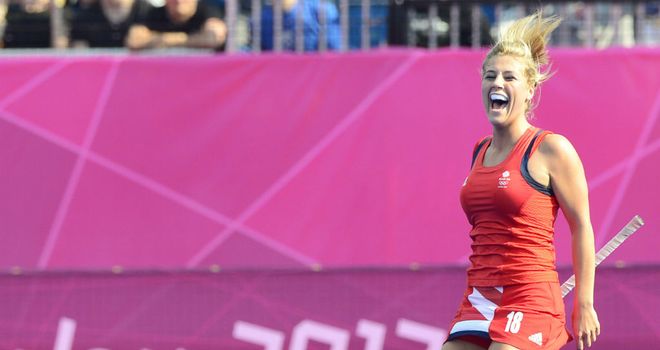 Georgie Twigg: Capped her Olympic debut with a bronze medal in London
Great Britain midfielder Georgie Twigg capped her Olympic debut with a bronze medal - only the second ever won by the women's team - and admitted it was an experience she would remember for the rest of her life.
The squad equalled the feats achieved by those in Barcelona in 1992 with a 3-1 win over New Zealand in the third-place play-off.
"It has been absolutely amazing. "
Georgie Twigg Quotes of the week
Alex Danson, Crista Cullen and Sarah Thomas secured victory long before Stacey Michelsen pulled one back for the Black Sticks, who were second best on the day.
Buzz
The 21-year-old said: "I'm absolutely thrilled and I can't quite believe it.
"It has been absolutely amazing. The crowds have been out of this world. The Olympic Village has been amazing and the buzz around Team GB has been fantastic.
"It is something I will remember for the rest of my life because it is an experience you can't really imagine you will get.
"I have absolutely loved every second of it and to come away with a bronze medal I'm delighted."
The side did well to bounce back from losing their semi-final against Argentina but the determination not to walk away empty-handed was evident on the field.
True colours
She added: "We knew when we stepped out on the pitch it would be a difficult game and we fought our hearts out.
"It shows the strength and character of our squad. We knew there would be bumps along the way but that showed our true colours.
"It is never easy to lose in a semi-final and then pick yourself up but I think we did."
Tough
The men have the chance to match their female counterparts, and achieve their highest finish since the gold medal victory of 1988, with victory against world number ones Australia on Saturday afternoon.
However, coming off the back of a 9-2 hammering by Holland in the semi-final, goalkeeper James Fair knows it is going to be tough.
Bounce back
He said: "It will take a while to bounce back from that defeat and there will be a few sleepless nights for a few people.
"But there is an opportunity to pick up a medal and that is what we have come for.
"We still have to look back at our past performances. We still know we can play decent hockey, put a match together and we need to bounce back for the Australia game.
"There are a few people probably stopping (retiring) and they don't want to go out on a low note - they want to go out and give it their all.
"That desire from everyone in the group is what will help us. Australia don't mind scoring goals either but we came back from 3-0 to draw 3-3 (in their group match) and we will give them a decent game.
"They will be devastated they lost their semi-final as well, although that was a bit tighter than ours."