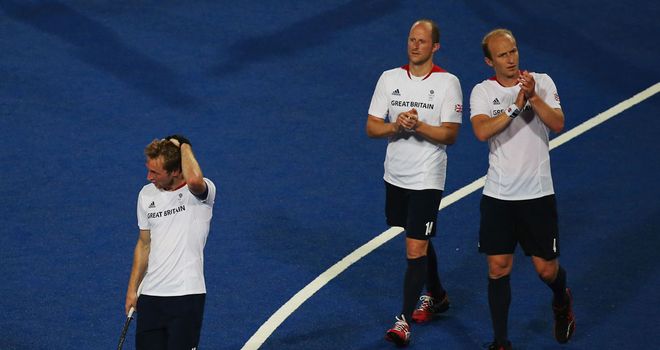 Barry Middleton: Suffered semi-final woe with the record defeat to Holland
Great Britain captain Barry Middleton has apologised for their record 9-2 semi-final defeat to Holland.
Ashley Jackson and Rob Moore scored GB's goals but the hosts had no answer to a Dutch team which were much sharper.
Roderick Weusthof and Billy Bakker both scored hat-tricks, with other goals coming from Teun de Nooijer, Mink van der Weerden and Floris Evers.
When asked what he would like to say at the post-match press conference, Middleton said: "Probably sorry to start with.
"The disappointing thing was we know that wasn't who we are. That wasn't really us. It is hard to explain why."
Barry Middleton Quotes of the week
"Credit to the Dutch, they played a good game, they just generally passed, shot, tackled and ran better than us.
"There are not that many games when a team does every aspect better than you.
"The disappointing thing was we know that wasn't who we are. That wasn't really us. It is hard to explain why.
"With how big the game was that is what makes it so hard to take.
"When we've had defeats in the past we have always put it down to aiming at something bigger for the reason behind it.
"Today the reason behind it was that we didn't turn up."
Attacking mindset
Having gone in at half-time 4-1 down they came out on the attack after the break but when they did not make an early breakthrough the Dutch began to pick holes in their shape.
Coach Jason Lee admitted they suffered as a result of the attacking mindset they have adopted over the last four years.
"When it got to 4-1 our intention was to get back so we kept on trying to attack and that was what opened us up and we got reckless far too early," he said.
"The upsetting thing is we completely lost our game halfway through the second half when the game was gone.
"I had said before (the tournament) we could finish first or ninth because we were willing to take risks.
"At 4-1 we stood a chance but because we were trying to get back into the game we conceded sloppy goals.
"We could have shut it down at 4-1 and it would have been a less embarrassing result but it would not have been what we said we were about.
"I'm a bit embarrassed we are on the wrong side of it but we didn't perform how we aimed to perform - but we did aim to win and that is why we got so exposed."
Evers delighted
Holland captain Evers was naturally delighted with the result.
"For us it was a great match. We promised ourselves we would play our game and that is what we did," he said.
"We wanted to score a lot of goals. At half-time we knew we had to survive the first 10 minutes of the second half and then when we made it 5-1 I felt it was our day."
Holland coach Paul van Ass confirmed after the match midfielder Klaas Vermeulen would miss the final with a broken collarbone sustained in a collision with Glenn Kirkham.
There is also a doubt over set-piece specialist van der Weerden after he was sent for a scan on an injured a foot which kept him out most of the second half.